Poole Harbour, Dorset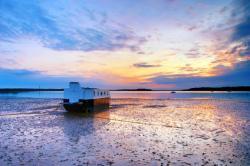 Poole Harbour is a natural harbour on the coast of Dorset in southern England. The harbour is the home to the town of
Poole
and is the largest natural harbour in Dorset. It also lays claim to the title of largest natural harbour in the world. However, this claim is subject to dispute and is not ratified. Poole Harbour enjoys the status and protection afforded by it being designated as a Site of Special Scientific Interest (SSSI) a Special Protected Area (SPA) and a Ramsar site.
The harbour was formed after the end of the last Ice Age when the river that formerly flowed through a valley there was flooded with melt-water. Several rivers now feed the harbour, the largest of them being the River Frome.
Although the harbour enjoys an extensive surface area, it is in fact very shallow with an array of sand banks and saltwater flats. A single deep water channel is dredged to allow for the safe passage of shipping. The harbour is surrounded by freshwater marshes and reed beds, and these provide an ideal breeding ground for an important array of birds. The harbour bed itself is an equally vital habitat for sealife, much of which is now rare or even threatened in Britain. This valuable sea life includes tube worms, sea sponges, sea mats and sea squirts.
More British Natural features?
Other Dorset Naturals
Durdle Door
Jurassic Coast
Portland Bill
Purbeck Hills
Old Harry Rocks
Lyme Bay
Cranborne Chase
Lulworth Cove
Chesil Beach
Lyme Bay
Brownsea Island
River Axe
Golden Cap
Blackmore Vale
Marshwood Vale
Studland
Melbury Beacon and Melbury Down