Durdle Door, Dorset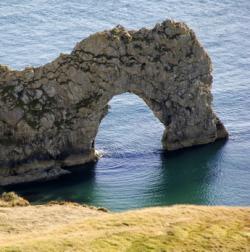 Durdle Door is a natural limestone arch on the Dorset's Jurassic Coast at
Lulworth Cove
. The arch is synonymous with the area and is undoubtedly its most famous landmark. The arch, and the cove, have been created by the erosion of softer bands of rock that lie behind the more resistant
Portland
Limestone. All except a short stretch of the limestone has been completely eroded away by the sea at Durdle Bay. A small portion remains and forms a headland. At the western end this band of limestone has been eroded through, creating the natural arch. Durdle Door is in an Area of Outstanding Natural Beauty.
The location is popular with walkers and bathers, and also geologists and fossil collectors. The entire area is part of the stunning
Jurassic Coast
, which is a World Heritage Site.
Lulworth Cove
attracts over one million visitors a year. The cove is one of the best examples of such a geological formation in the world. The headlands project to such an extent that the cove is almost still a lagoon. The cove presents a natural harbour for fishermen and the village of
West Lulworth
owes its very existence to this natural harbour. The shape of the cove and the natural barrier provided by a submerged reef in the bay means it is an ideal place for sunbathers and swimmers. The shingle beach does shelve quite steeply so care needs to be taken. Sheltering under the fragile cliffs, or attempting to climb them, is not advised due to the risk of landslip. Access to the beach is through the Durdle Door Holiday Park and a flight of steep steps. At the western end of the cove is Bat's Head, a chalk headland.
The picturesque village pub, the
Castle Inn
, dates from the 16th Century and is one of Dorset's oldest pubs. It still has its original woodwork and a delicate thatched roof. To the east of the village is Bindon Hill, a 170m high ridge that features the remains of an
Iron Age
hill fort. Hambury Tout is to the west and this hill is topped by an ancient barrow. At
East Lulworth
, just south of
Wool
, lies the 17th Century
Lulworth Castle
. Built in 1610 by
Thomas Howard
it originally served as a hunting lodge. The grand building is now a tourist attraction that holds various medieval styled events.
The exposures of folded Jurassic and Cretaceous strata have helped to make Lulworth Cove the most-visited geological locality in Britain. On the cliffs to the east is the Fossil Forest with ancient soil and tree remains in evidence
More British Natural features?
Other Dorset Naturals
Jurassic Coast
Portland Bill
Purbeck Hills
Old Harry Rocks
Lyme Bay
Cranborne Chase
Lulworth Cove
Chesil Beach
Poole Harbour
Lyme Bay
Brownsea Island
River Axe
Golden Cap
Blackmore Vale
Marshwood Vale
Studland
Melbury Beacon and Melbury Down