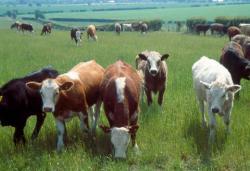 Cranborne Chase is a large chalk plateau that covers parts of the counties Dorset, Hampshire and Wiltshire in south-west England. The plateau forms part of the substantial and ancient English Chalk Formation that covers much of the southern parts of England. Cranborne Chase lies next to
Salisbury Plain
and the West Wiltshire Downs in the north, the Dorset Downs to the south west and the
South Downs
running south east.
The 379 square miles of
Cranborne
Chase and the West Wiltshire Downs are designated as an Area of Outstanding Natural Beauty (AONB) and is currently the sixth largest AONB in the country. The highest point is found in Wiltshire at Win Green which stands at 910 ft.
Cranborne Chase has a history that extends way back to Neolithic times. Countless earthworks are dotted around the countryside. Stone circles, or evidence of them, can be found all over in an important part of what was once ancient Britain. There are many Neolithic and Bronze Age monuments and the remains of a number of
Iron Age
settlements on the downs, including the hill fort at Badbury Rings (Vindocladia). An old
Roman
villa has recently been excavated by the Time Team television program in the area of Minchington. When the
Saxons
invaded England, the Romano-British population of the downs tried to keep the invaders out of Dorset by building a five mile long defensive ditch, now known as Bokerley Dyke, across the top of the downs.
The thick deciduous ancient woodlands that once covered the downs here would have gradually been cleared by early farmers. However, so long is the history of habitation in this area, the forests would have grown back several over the centuries as soils became exhausted and the agricultural was subsequently abandoned. As a result large areas of this land, though continuously inhabited for over six thousand years, did remain wooded from the Middle Ages until
World War II
. Then, demands for food production during the war outstripped the weakness of agriculture in the area and intensive farming started clearing woodlands once again.
Visitors to the area could call on the village and estate that gave the area its name.
Cranborne Manor
, the Dorset home of Viscount Cranborne, boasts wonderful gardens that are open once a week in the Spring and Summer for the public to enjoy. The
Cranborne Manor Garden Centre
, which specialises in old fashioned roses, clematis and all the best plants for a country garden, is open every day.
More British Natural features?
Other Dorset Naturals
Durdle Door
Jurassic Coast
Portland Bill
Purbeck Hills
Old Harry Rocks
Lyme Bay
Lulworth Cove
Chesil Beach
Poole Harbour
Lyme Bay
Brownsea Island
River Axe
Golden Cap
Blackmore Vale
Marshwood Vale
Studland
Melbury Beacon and Melbury Down