Old Harry Rocks, Dorset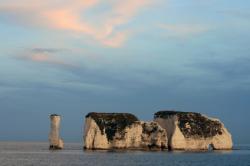 Old Harry Rocks is the name given to a chalk stack found below the cliffs at Ballard, which lies directly east of
Studland
, just north of
Swanage
in Dorset. As part of the world famous UNESCO Jurassic Coast World Heritage Site, the rocks are spectacular, especially in heavy weather when the sea crashes around the base of the stacks. The rocks mark the eastern end of the
Jurassic Coast
. Some geologists maintain that the stack was probably once physically connected to
The Needles
on the
Isle of Wight
as part of a line of hills that were eroded en masse during the last Ice Age.
The cliffs here are mainly made up of chalk, with some bands of flint within them. The stacks are of course still being eroded by the sea and are therefore an ever-changing feature.
To form the stack the sea gradually eroded along the joints and bedding planes where the softer chalk meets harder bedrock of the rock formations to create a cave. This then eventually eroded right through to create an arch. The arch subsequently collapsed to leave the stacks of Old Harry, No Mans Land and the gap of St Lucas' Leap. The large outcrop of rock at the end of the cliffs is often referred to as 'No Man's Land'.
Back in the 1770's, people could still walk from the headland of Handfast Point to Old Harry, which is the stack at the end nearest to the sea. Old Harry once had a 'wife' but in 1896 the majority of Harry's wife fell into the sea leaving only a stump. New stacks are being formed as the sea continues to cut through the narrow and relatively soft chalk to form arches which inevitably collapse to leave more stacks.
There are two stories regarding the naming of the rocks. One suggests that the devil himself took a nap on the rocks, although it is unclear if the popular euphemism for the devil of 'Old Harry' precedes the naming of the rocks or the other way around. Another explanation is that the name is linked to the infamous
Poole
pirate, Harry Paye, who used to store his contraband nearby.
The stacks are a popular viewpoint along the
South West Coast Path
. The path stretches across the entire Jurassic Coastline and offers the walker stunning views of the many coastal features. Geologists, and those with an interest in fossils, flock to the fossil-rich coastline which is said to showcase of Earth's history over the last 250 million years.
More British Natural features?
14 Responses to Old Harry Rocks
From bobby on 14th May 2013
coolio
From tom boster on 14th May 2013
coolio great info
From Zoe on 4th May 2013
Well good for coarse work
From daniel on 26th March 2013
good information about the rocks
From Chloe on 9th February 2013
Thank you :) Great for homework!
From sarah on 9th January 2013
not enough infomation
From emila on 18th December 2012
This WEBSITE SUKS!!!!!!!!!!!!!!!!
From yasmin on 11th December 2012
this website ROCKS!!!!!!!!!!!!!!!
From sandra on 24th November 2012
needs more on pre birth
From bob on 17th May 2012
this website is ok but not as thourogh as i hoped.
From Tom on 24th April 2012
Very helpful for homework
From Rachel on 21st September 2011
This website is amazing...i have found out much more than i expected to! :)
From Katlyn on 21st September 2011
this article gave me much more infomation than i expected.....! :)
From Hanifa on 10th March 2010
i think this article gives me all the information i need to know
Other Dorset Naturals
Durdle Door
Jurassic Coast
Portland Bill
Purbeck Hills
Lyme Bay
Cranborne Chase
Lulworth Cove
Chesil Beach
Poole Harbour
Lyme Bay
Brownsea Island
River Axe
Golden Cap
Blackmore Vale
Marshwood Vale
Studland
Melbury Beacon and Melbury Down