Chesil Beach, Dorset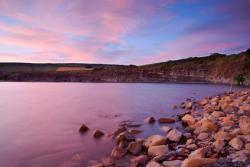 Chesil Beach is in Dorset, in the south-western region of England. Often called Chesil Bank, the beach is one of the three large shingle natural structures found in the UK. The beach is 18 miles long, 660 feet wide and around 50 feet in height. Chesil Beach is part of the
Jurassic Coast
, a UNESCO World Heritage Site.
The beach joins the mainland of
Devon
to the Isle of Portland, effectively making
Portland
not a genuine island at all. Geologists think that Chesil Bank was once a barrier beach which has moved toward the land and joined itself to Portland.
Portland and Chiswell are at the south-eastern end of the beach. The village of Chiswell is protected from the action of the tide, waves and flooding by the barrier formed by Chesil Beach. This is probably the only reason for the existence of the village which would otherwise have been inundated by the sea many times over. As the beach stretches west the shingle forms a straight line parallel to the coast, enclosing the Fleet, a shallow tidal Lagoon. Chesil Beach and the Fleet Lagoon are a Site of Special Scientific Interest (SSSI). Abbotsbury has a wonderful view of the beach, which has been voted as Britain's third best view by the influential Country Life magazine
The beach also provides the perfect shelter from the Atlantic winds. This has helped to establish the port of
Weymouth
which enjoys the natural harbour created by Chesil Beach and the Isle of Portland.
The shingles on the beach are made from flint and chert. The individual sizes of these pieces of shingle varies as you move along the beach. At the Portland end of the beach the shingles are large, about the size of tennis balls. As you move north west along the beach the size gradually diminishes until it is barely pea-sized. Smugglers, landing their boats to unload contraband on the beach in the dead of night, used to be able to judge exactly where they had put ashore by examining the shingle size!
During
World War II
the beach and lagoon were used extensively for machine gun training and for testing the bouncing bomb used in Operation Chastise to blow up damns in Germany during the war. The deep water harbour to the north of Portland provided an ideal port for heavy shipping during the wars and later for NATO ships.
More British Natural features?
Other Dorset Naturals
Durdle Door
Jurassic Coast
Portland Bill
Purbeck Hills
Old Harry Rocks
Lyme Bay
Cranborne Chase
Lulworth Cove
Poole Harbour
Lyme Bay
Brownsea Island
River Axe
Golden Cap
Blackmore Vale
Marshwood Vale
Studland
Melbury Beacon and Melbury Down