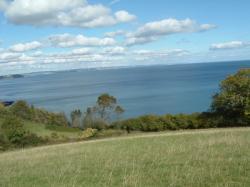 Lyme Bay is a large maritime bay situated in the south west of England. The bay runs from Torbay in the west to
Portland
in the east, with the counties of Dorset and
Devon
sharing the coastline.
The bay is situated within the UNESCO
Jurassic Coast
World Heritage Site. Widely regarded as one of the most important areas of geological interest in the world, the coastline is also very popular with visitors who are simply there to enjoy the stunning scenery, lovely beaches and quaint west of England villages. However, the area is so fossil-rich that even casual visitors to the cliffs and beaches might end up finding an ancient fossil. The
Lyme Regis
and
Charmouth
areas gave up many of the earliest discoveries of dinosaur and other prehistoric reptile remains. Probably the most famous of all these discoveries were those made by self-educated palaeontologist and fossil collector
Mary Anning
, in the 1820s. Her finds were important in helping scientists of the day to come to terms with the concept of extinction. Before this time it was widely believed that many of these fossilised creatures still roamed the planet in some remote and unexplored region.
The area isn't just known for the standard of the beaches and the surrounding countryside, it is also known for its mild weather. The region is warmed by the Gulf Stream and, because of this stream of warm water and therefore warm air, the bay is far more temperate than other areas on a similar latitude. This warm weather, although it can be warm and wet, helps draw people to the beaches there. Lyme Bay also became famous recently for the wrong reasons. There was a tragedy at the bay in 1993 when four schoolchildren died in a what has become known as the Lyme Bay kayaking tragedy. More recently, the stricken container ship MSC Napoli was deliberately beached there, much to the consternation of environmental and conservation groups who questioned the wisdom of towing the damaged ship through a World Heritage Site.
A feature of the bay that surprises many people is coral. Few would believe that there are coral reefs anywhere near Britain, let alone just a few miles off its coastline. And yet some of the most spectacular reefs in the UK are in Lyme Bay. The Lyme Bay Reefs contain over 300 species of plants and animals, including a variety of rare and endangered species. However, the reefs are under pressure, mainly from modern fishing techniques and especially scallop dredging. A Devon Wildlife Trust survey found worrying damage in many areas caused by scallop dredging
More British Natural features?
Other Dorset Naturals
Durdle Door
Jurassic Coast
Portland Bill
Purbeck Hills
Old Harry Rocks
Cranborne Chase
Lulworth Cove
Chesil Beach
Poole Harbour
Lyme Bay
Brownsea Island
River Axe
Golden Cap
Blackmore Vale
Marshwood Vale
Studland
Melbury Beacon and Melbury Down