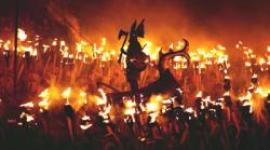 Contrary to what some would have us believe, the British are not a homogenous group, but rather a glorious mix of cultures. In some places one element still predominates, and has traditions that can readily be identified with say the Vikings, or the Celts. Many others fall into a catch-all 'don't know' category of folk customs. Our cultural life is all the richer for these survivals, some of which can be traced back thousands of years, others 'just' a few hundreds.
The more earnest may wish for straight faces and nods of appreciation at these eccentric events, but festivals were intended in the main to be joyous occasions, and should be fun now as they were when they began. With a few exceptions most of these traditions are accompanied by prolonged visits to the pub and/or consumption of large amounts of delightfully unhealthy food, activities in themselves of deep cultural significance to the British. If sides of venison have been replaced by hotdogs, mead by lager, so what, the important thing is celebration.
The weird and wonderful world of British folk traditions has many strands. Some events - like Blessing the Throats at St Ethelreda's in London's Ely Place are self-evidently religious in origin, and in that case Christian. Others predate the Christian era, for example the Whalton Baal fire held every July to celebrate the power of light, almost certainly Celtic in origin.
There are events that celebrate the gifts of the earth, and that in style when it involves wassailing. The gifts of a sea that is never far away in this country should likewise not be forgotten, and are celebrated every year on Tom Bowcock's eve in Cornwall.
Some defy interpretation: Turning the Devil's Stone in Shebbear, Devon, which would not disgrace a Doctor Who plot of the spookier type; or the Horn Dance in Abbots Bromley which still uses at least one set of Scandinavian reindeer horns a thousand years old.
And then there are some which to the outside eye are plain bonkers. Odd bonkers like the gurning in Cumbria. Dangerous bonkers like the near suicidal cheese rolling at Cooper's Hill; Allendale tar barrel carrying; the pyromaniac festival of Up-Helly-Aa in the Shetlands; or the surreal bottle-kicking football game at Hallaton in Leicestershire. If only they were Olympic events!
British Folk Customs by county: Show All
England: | Bedfordshire(1) | Berkshire(5) | Bristol(2) | Buckinghamshire(5) | Cambridgeshire(5) | Cheshire(3) | Cornwall(6) | County Durham(3) | Cumbria(3) | Derbyshire(3) | Devon(8) | Dorset(2) | East Yorkshire(1) | Essex(6) | Gloucestershire(9) | Greater Manchester(2) | Hampshire(2) | Herefordshire(3) | Hertfordshire(1) | Kent(7) | Lancashire(4) | Leicestershire(2) | Lincolnshire(2) | London(12) | Merseyside(1) | Norfolk(3) | North Yorkshire(5) | Northamptonshire(1) | Northumberland(3) | Nottinghamshire(4) | Oxfordshire(6) | Rutland(3) | Shropshire(2) | Somerset(5) | South Yorkshire(1) | Staffordshire(2) | Suffolk(2) | Surrey(4) | Sussex(2) | Tyne and Wear(1) | Warwickshire(3) | West Midlands(1) | West Yorkshire(6) | Wiltshire(3) | Worcestershire(2)Scotland: | Angus and Dundee(4) | Argyll(5) | Ayrshire and Arran(1) | Dumfries and Galloway(1) | Edinburgh and the Lothians(3) | Fife(1) | Glasgow(1) | Grampian(1) | Highlands(1) | Lanarkshire(2) | Perthshire(1) | Shetland Isles(1)Wales: | Anglesey(9) | Mid Wales(2) | North Wales(2) | South Wales(2)Offshore: | Isle of Man(2) | Jersey(1)