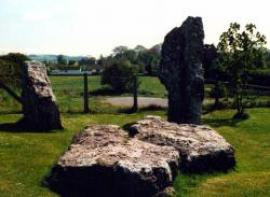 Thanks to its rich mix of cultures - Ancient British, Celtic, Anglo-Saxon, Norse and Norman - Britain enjoys an equally varied inheritance of myths and legends. With the arrival of new cultures and peoples over the last century or so it is likely that further additions to this stock are already being made.
As with our folk customs, some of the myths and legends can be traced to a particular source, and some remain delightfully mysterious. In the mysterious category are those known to all, like Robin Hood, and King Arthur, a boon to film and television producers now as they were to poets and minstrels centuries ago.
Arthur is at the grander end of the scale, his story symbolising the coming together of the kingdom, and bound up with what some are wont to call 'British values', of courtesy and honour and fairness. Equally interesting, however, are those local legends, like The Dancers of Stanton Drew, or the myth of how The Wrekin was formed: these are stories perhaps first told by some mother or father to wide-eyed children a thousand and more years ago, where an explanation of some feature of the area gave scope for imagination and entertainment then as it still does now.
Enjoyably - for some at least - our myths and legends include some pleasingly gruesome tales: Black Shuck the ghost dog of East Anglia whose tale has kept children awake for longer than is good for them for a millennium and more; down to far more recent times, and the tragic but attractively melodramatic true story of The Murder in the Red Barn. Knowing the major myths is part of our cultural heritage, part of our particular language. Knowing the local ones adds to the richness of a visit to an area, or the feeling of belonging to that area for its residents. That feeling of belonging, however, goes beyond mere geography, and into the historical, linking us with our ancestors who have shivered as children on hearing about the ghost of Colonel Sydney in Ranworth in Norfolk, or Dando's ghoulish dogs in Cornwall, and as adults have related the same unsettling narratives to their own offspring. Long may it continue.
British Lore and Legend by county: Show All
England: Bath(1) | Bedfordshire(1) | Berkshire(5) | Buckinghamshire(1) | Cambridgeshire(4) | Cheshire(1) | Cornwall(4) | County Durham(2) | Cumbria(1) | Derbyshire(1) | Devon(6) | Dorset(1) | Essex(2) | Gloucestershire(1) | Greater Manchester(1) | Herefordshire(1) | Isle of Wight(1) | Kent(1) | Lancashire(2) | Leicestershire(2) | Lincolnshire(6) | London(8) | Norfolk(6) | North Yorkshire(2) | Northamptonshire(1) | Northumberland(1) | Nottinghamshire(2) | Oxfordshire(1) | Shropshire(3) | Somerset(6) | South Yorkshire(1) | Staffordshire(1) | Suffolk(1) | Sussex(3) | Warwickshire(3) | West Midlands(2) | Wiltshire(2) | Worcestershire(2) | Scotland: Angus and Dundee(5) | Argyll(2) | Ayrshire and Arran(2) | Dumfries and Galloway(1) | Edinburgh and the Lothians(1) | Grampian(1) | Highlands(3) | Isle of Skye(1) | Orkneys(1) | Shetland Isles(1) | Wales: Anglesey(6) | North Wales(1) | South Wales(2) | West Wales(3) | Offshore: Guernsey(2) | Isle of Man(1) | Northern Ireland: County Antrim(1) | County Londonderry(1) |