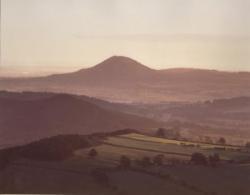 The Wrekin is a hill in east Shropshire that lies four miles west of
Telford
. It straddles the border between the boroughs of
Shrewsbury
and Atcham, and Telford and Wrekin. The Wrekin is 1335 feet high and is part of the northern panhandle of the Shropshire Hills Area of Outstanding Natural Beauty. It is a very prominent and well-known landmark that marks the entrance to Shropshire for drivers westbound on the M54 motorway.
The summit of the hill offers good views of Shropshire and can itself be seen from afar. It can still be picked out from well into
Staffordshire
and the Black Country, and even as from as far away as the
Beetham Tower
in
Manchester
, Winter Hill in
Lancashire
and Cleeve Hill in
Gloucestershire
.
The hill is very popular with walkers and tourists and can be accessed from J7, the final junction, on the M54 motorway. The hill is then sign-posted. A well-used footpath runs up the side of the hill, its entrance is at the end of the road off the M54. A small car park and further parking bays up the road are provided. The ascent is quite steep in parts so stout walking shoes are advisable.
The summit is the location for an
Iron Age
hill fort. The large fort, almost 8 hectares in size, was probably built by the Cornovii tribe and was once their capital. A more recent symbol of power and status is the The Wrekin transmitting station, used for broadcasting and telecommunications. A beacon which emits a red pulse of light every few seconds at night, primarily to alert low flying aircraft, sits atop the mast. This has been nicknamed the 'Beacon on the Wrekin' and is visible for many miles around.
It has been suggested that The Wrekin provided some inspiration for Tolkien's Middle Earth in the story 'The Lord of The Rings'.
Tolkien
used to live nearby.
Wellington-Under-Wrekin sits at the foot of the hill.
Wellington
still boasts a thriving market at its heart. Founded by royal charter at least as early as 1244, the market comprises around 150 stalls. It operates four days a week and is Shropshire's largest and most visited
market
, not to mention one of its oldest. The town is a typical picturesque Shropshire market town and even, perhaps, one of the best of them all. Thanks to regular rail and bus services and the M54 motorway, Wellington is also one of Shropshire's most accessible small towns.
More British Natural features?
Other Shropshire Naturals
River Severn
Wenlock Edge
Clee Hills
Carding Mill Valley
Long Mynd
River Teme
Severn Valley