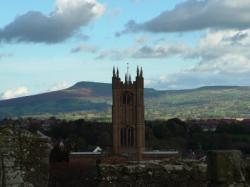 The Clee Hills range along 15 miles in the county of Shropshire, in the area of
Ludlow
. Two peaks mark the range, which is in the Shropshire Area of Outstanding Natural beauty (ANOB). Brown Clee Hill is the highest of the pair and, at 1,771 feet, it's also the highest hill in Shropshire. Titterstone Clee Hill, which is around five miles to the south of Brown Clee Hill, is marginally lower at 1,748 feet.
The hills are bisected by the B4364 road, which offers good views of both the hills as it runs between them. They are sometimes referred to as the 'gateway' to the
West Midland
area, as they mark where the rural landscape of
Welsh Marches
begins to give way to the industrial landscape of the West Midlands. Both hills have been extensively quarried for the local igneous rock, called dolerite and also for iron, copper and limestone. The pair each have radar and air traffic control masts on them. They can be seen from miles around both during the day and at night, even from on the M5 motorway!
The hills themselves also offer wonderful views. Looking west you can see as far as
Snowdonia
and Cadair Idris. If visibility is good you can gaze upon the
Brecon Beacons
, the
Black Mountains
, the Long Mynd, as well as Stiperstones (Shropshire's third highest peak), Corndon Hill and Radnor Forest. To the south lay the
Malvern Hills
and the
Cotswolds
and to the east the Clent Hills, Turner's Hill and the spread of the West Midlands. To the north is
Cannock Chase
and in exceptional visibility the hills of the
Peak District
including the
Roaches
and Winter Hill can be seen.
The village of Cleehill lies between Ludlow and
Cleobury Mortimer
and lies and on the slopes of Titterstone Clee Hill. The hills offer an important habitat for wildlife, there are many rare or threatened breeds sheltering there. It is a known habitat for the peregrine, kestrel, skylark, European stonechat, northern wheatear, Eurasian curlew and the barn owl. On the ground adders and rabbits are common. Ravens have also been making a comeback on Clee Hill.
The Clee Hills provides an irresistible challenge not only to walkers, who wish to scale the hills to take in the superb views from the summits, but also from the competitors in the annual Clee Hill Classic Trial. The event attracts plucky drivers of vintage and classic cars who try to scale the hills via a selection of extremely arduous and very muddy tracks
More British Natural features?
Other Shropshire Naturals
River Severn
The Wrekin
Wenlock Edge
Carding Mill Valley
Long Mynd
River Teme
Severn Valley