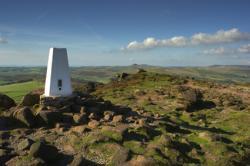 The Roaches are part of the gritstone escarpment that marks the south-western  edge of the
Peak District
. Along with Hen Cloud and Ramshaw Rocks they form a formidable line of rocks. They have been eroded over hundreds of thousands of years to leave spectacular formations and stacks rising up to a peak of 1,657 feet. All over the hills here bare rocks protrude from the surface presenting an almost supernatural sight. The actions of wind, rain, water and ice have sculptured the rocks with grooves and channels. Some even look like giant sharks teeth poking upwards through the thin upland soil.
A thick bed of coarse sandstone, or gritstone, forms the base of the Roaches. Laid down in the Namurian Age, this rock is known as Roaches Grit and can be found in many other locations across the Peak District. A fault line, running east-west, marks the southern edge of the Roaches and separates it from Hen Cloud.
The Roaches consist of two edges, known as the Lower and Upper Tier. A former gamekeeper's cottage is built into the rocks of the Lower Tier. The structure is known variously as Rock Cottage, Rock Hall Cottage or Gamekeepers Cottage and was built by Sir Philip Brocklehurst in the mid 1800s as a hunting or gamekeeper's lodge. The site was formerly Rock Hall cave and was once the home of an old crone known as Bess Bowyer who reputedly lived to be almost one hundred years old. It is said she died of a broken heart when her daughter was carried off by strange men one winter, never to be seen again. The charming but primitive home has now been converted into a climbing lodge.
Within the Roaches, near to Rock Cottage, you can find Doxy's pool which local legends claim is inhabited by mermaids. It is one of many such deep pools and lakes present in the area.
The name Roaches is a derivative of the French word for 'the rocks', les roches. They were once part of the Swythamley Estate and were purchased by the Peak District National Park Authority in order to defend them from adverse development and to ensure they always remain open for public access. This strategy has obviously been successful as the area remains as a largely unspoilt wilderness with no restrictions to public access. The Roaches are very popular with walkers and climbers and can be quite busy during the summer months.
More British Natural features?
Other Staffordshire Naturals
River Trent
National Forest
Cannock Chase
Staffordshire Moorlands
Kinver Edge