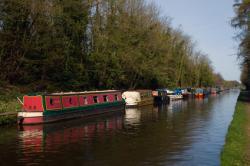 The River Trent rises in Staffordshire between Biddulph and Biddulph Moor near to
Stoke-On-Trent
. It divides England between The North and The South as it cuts a 170 mile swathe through the heart of England, the Midlands. It meets the
River Ouse
at Trent Falls where it becomes the
Humber Estuary
and flows out into the North Sea between
Hull
and
Immingham
. It has no less than 42 main tributaries, of which the rivers Derwent, Dove, Soar, Erewash and Devon are the most significant.
The river has served as a major artery for transportation since ancient times. The Celts used it and the
Romans
exploited it, both militarily and for trade. The
Vikings
frequently sailed up it to attack
Nottingham
. Not only did the ancients recognise its significance as a highway, they also worshipped it as a deity. Almost 200 Bronze Age artefacts have been found in the river or within its flood plains, most of them deliberately deposited in the river as ritual offerings. Archeological finds supporting this fact include swords, shields, axes, general tools and spears.
It still carries commercial waterborne traffic, especially down-river from the tidal limit at Cromwell Lock near
Newark
. Stand on the banks of the Trent down-river from Newark and you'll see heavy barges plying the waters even to this day. The non-tidal reaches above Cromwell Lock are suitable for most inland vessels except after periods of heavy rainfall. The river is notorious for the lethal strength of its current, especially along its tidal stretch, and it produces a tidal bore known as the Trent Aegir. There are no less than six Sites of Special Scientific Interest along its course and a myriad of wetlands, flood plains and bridges.
Many of the urban centres along the Trent owe their existence to the river. Even before the
Industrial Revolution
the Trent promoted their growth. With the coming of the new age of industry the importance of the river as a source of transport, and the water vital to these heavy industries, grew significantly. Nottingham, Newark,
Gainsborough
, Gunness and
Scunthorpe
all relied upon the river. Nottingham's cloth industry needed the water and the transport links and without them doubtless would never have grown into the size it is today. Scunthorpe's steel industry still uses the river to transport raw materials in and finished products out.
Cricket fans will be familiar with the Trent Bridge which has been in use as a cricket ground since 1830. It is now a Test, One-day International and County cricket ground located and is also the home of
Nottinghamshire County Cricket Club
.
More British Natural features?
Other Nottinghamshire Naturals
Sherwood Forest
Vale of Belvoir
River Soar
Leen Valley