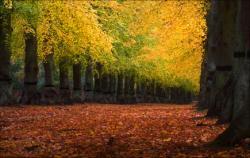 Sherwood Forest, located in the county of Nottinghamshire, is synonymous with
Robin Hood
. The Royal Forest is much smaller now being just 165 square miles of woodland. It surrounds the village of Edwinstowe in Nottinghamshire, in the area of
Thoresby Hall
. The area has been continuously afforested since the end of the Ice Age. This patch of woodland is all that remains of a once much larger hunting ground, reserved for royal use. The original ancient forest stretched over a much larger area and into several counties.
In 1969 an area of the forest was dedicated as a country park, open to the public, by Nottinghamshire County Council. The authority manage a small part the forest under lease from the Thoresby Estate. The Forestry Commission looks after most of the forest. They have established walks and trails and provided a range of other activities.
In 2002 part of Sherwood Forest was designated as a National Nature Reserve by English Nature. The park nearly doubled in size in 2007 when Budby South Forest, Nottinghamshire's largest area of dry lowland heath, was officially incorporated into the Nature Reserve by Natural England.
The area cannot avoid its association with the world famous archer of old,
Robin Hood
. Sherwood Forest welcomes around half a million visitors a year and this amount does increase whenever a new film or dramatisation about the 'Prince of Thieves' is released. For one week each summer Sherwood Forest hosts the annual
Robin Hood Festival
. A medieval atmosphere is recreated with jousters, musicians, jesters, alchemists, fire-eaters and even rat-catchers - all in authentic medieval dress with period instruments, tools or utensils.
At the
Sherwood Forest Country Park
a 20 minute walk through the woods from the visitor centre brings you to the Major Oak, legendary home of Robin Hood. The old oak tree is estimated to be over 800 years old. However, experts are divided on whether it is indeed a single tree, or three or four fused together. Props are needed to support its weighty branches.
Robin Hood may be the reason why so many people have heard of Sherwood Forest but there's much more on offer to the visitor than the legendary archer. Attractions like
Sherwood Forest Farm Park
are popular. This centre is approved by the Rare Breeds Survival Trust for the breeding of rare and protected farm animals and is open to the public. Visitors young and old can spend time relaxing in the beautiful water gardens with a variety of animals around. There is a gift shop and a tea-room at the farm.
Sherwood Forest is also the location of a Centre Parc holiday village. The village is carefully laid out to attract wildlife and this strategy seems to have worked. The village is home to many British bird species considered to be endangered, there are even hides in place to allow visitors to witness the birds relatively close up. The accommodation is arranged to mingle with nature as much as possible, creating a lovely woodland living environment
More British Natural features?
Other Nottinghamshire Naturals
River Trent
Vale of Belvoir
River Soar
Leen Valley