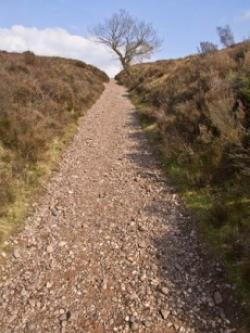 Cannock Chase is located between
Stafford
,
Cannock
and Rugeley. Cannock Forest is crossed by several roads including the A460 and A513. Within Cannock Chase lies the ancient Cannock Forest.
Rugeley
is the nearest town or village to the Chase. Cannock Chase was designated as an AONB on 16 September 1958 and much of the area is also designated as a Site of Special Scientific Interest (SSSI). It is mainland Britain's smallest Area of Outstanding Natural Beauty (ANOB) at only 26 square miles.
Cannock Chase features a mix of open heathland and pine forest. It has a mining and military history which stretches back several hundred years and still effects how the land is managed today. After World War 1 a shortage of home grown timber prompted The Forestry Commission to plant woodland on the Chase in the early 1920s. The Forestry Commission has since come along way from the early days of intensive timber production, nowadays the forest is carefully managed to balance the needs of wildlife, recreation and the local timber markets.
Cannock Chase has long been a favourite destination for local people seeking fresh air, peace and exercise. Fairoak Valley is particularly popular with walkers and cyclists. In fact, the area has become somewhat of a major draw for mountain bikers, with organised and marked trails and even man-made courses. Cannock Chase is home to the Midlands first dedicated mountain bike trail called 'Follow the Dog'. This is a seven mile intermediate mountain bike trail aimed at competent mountain bikers. It is part of the Chase Trails network which is organised by the Forestry Commission in association with the International Mountain Biking Association (IMBA). Don't worry, there are trails to suit all abilities.
Starting in 2006, The Forestry Commission has allowed the Chase to be used as an open air music venue. Acts including 'The Zutons', 'The Feeling', 'Status Quo' and
Jools Holland
have all performed in a forest clearing.
Bird watching is popular on Cannock Chase, which is home to a number of endangered birds, including the rare migrant Nightjars. The West Midland Bird Club have set up a feeding station at the Marquis Drive Visitors' Centre which attracts many species, including Brambling, Yellowhammer and Bullfinch.
Visitors to the area might like to head for the
Birches Valley Forest Centre
as their starting point for exploring the Chase. Facilities there include car park, refreshments, toilets, cycle hire,
Go Ape
, play area and the Route to Health Sculpture trail.
More British Natural features?
Other Staffordshire Naturals
River Trent
National Forest
Staffordshire Moorlands
The Roaches
Kinver Edge