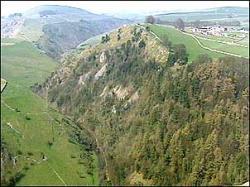 Wenlock Edge is a wooded area that falls within the Shropshire Hills Area of Outstanding Natural Beauty (AONB). Seven miles of the Edge are owned and managed by the National Trust. It runs for 15 miles from
Much Wenlock
to
Craven Arms
. The deciduous woodlands that cover the majority of the steep slopes of the escarpment are in parts very well preserved.
The limestone escarpment that forms Wenlock Edge is world famous as a geological site. Wenlock is so bound up with international geology that a section of the Silurian Period is called the Wenlock Era. Rocks may even be referred to by geologists as ĎWenlockianí! Much of the area was once covered by a tropical ocean and walkers can pick pieces of coral from the soil as they travel along the Edge. There are so many fossils here that even a casual look will soon bring up many specimens, usually of a small ancient sea creature. Brachiopods, small fan like shell fish much like what you might find on the beach today, are especially in abundance.
As you walk along Wenlock Edge you will see Lea Quarry, which is still in operation today. The bright blue, lagoon-like water of a settling pool there looks very tropical, almost like an echo of the regionís ancient tropical past. However, the colour of the pool is actually caused by the partially-dissolved minerals in the water reflecting the light. It is absolutely not safe to go swimming here as the water is definitely not tropical! Itís actually very deep and dangerously cold!
With swimming off the agenda itís good to know that there are a number of walks clearly marked out in the Wenlock Edge region. Walking is a great way to get out and enjoy the wonderful natural habitat but some visitors prefer to ride. The Shropshire Way, and the many bridleways such as The Jack Mytton Way, make Wenlock Edge very popular with equestrians as well as cyclists.
The town of Much Wenlock, often simply known as Wenlock, boast some outstanding architecture from Englandís past. Visitors, especially those from overseas, love the buildings like the sixteenth century Guildhall and the many other historic structures built in the distinctive early English style.
Every two years the famous
Much Wenlock Festival
entertains hundreds of people with arts, music, film and fun. In 2008 there was even a window dressing competition as well as organised rambles along the Edge. The 2008 festival will be particularly remembered for the spectacular production of
Shakespeare
's Richard III, even though it was just one of the 23 different events available that year!
More British Natural features?
Other Shropshire Naturals
River Severn
The Wrekin
Clee Hills
Carding Mill Valley
Long Mynd
River Teme
Severn Valley