Lulworth Cove, Dorset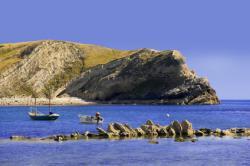 Lulworth Cove is situated along the south coast of England in the county of Dorset. The cove is probably the best coastal formation of its type to be found anywhere in the world. The beach, the surrounding cliffs and countryside all conspire to make the
Lulworth Cove
one of Englandís most popular tourist destinations. The regionís relatively temperate summer climate also helps to attract somewhere in the region of one million visitors to the cove every year.
The cove is a wonderful work of art sculptured by the sea as it works upon the various parallel bands of rock present along this coast. Once the sea breaks through the tough outer band it can scoop away a larger area of the relatively softer rock behind. This forms the wide beach of the cove but maintains a narrow entrance to the bay. Glacial melt waters running off the chalk inland also contributed to the formation of the cove. A post glacial river may once have been responsible for forming a weak point in the harder stone of the original coastline for the sea to break through.
A cove at an earlier stage of development is evident at Stair Hole, found less than half a mile away to the west of Lulworth Cove. Here, the sea has eroded a gap in the
Portland
and
Purbeck
limestone, initially to form a small arch. The sea has started to erode the Wealdon clay beyond the limestone and this is showing signs of slumping seaward. The arch has collapsed and a slightly larger area is flooded with each tide. Eventually the clay will be completely stripped away and the area will be flooded by sea water to form another cove.
The beach, which is part of the
Jurassic Coast
World Heritage Site, lies in front of the charming Dorset village of
West Lulworth
. The village has survived remarkably unscathed despite the tourists but it can be very busy in high summer.
The beach is an ideal place to relax and swim, and maybe even to enjoy a picnic. However, you could also take a boat trip or visit the Lulworth Cove Heritage Centre. Situated next to the car park, the centre has exhibitions showing the history of Lulworth dating back from 150 million years ago to the present day.
At the east end of the beach are steps that lead to Mupe Bay, via Fossil Forest. The stunning cliff top path is within an MOD restricted area so access is limited to weekends and all of August.
More British Natural features?
Other Dorset Naturals
Durdle Door
Jurassic Coast
Portland Bill
Purbeck Hills
Old Harry Rocks
Lyme Bay
Cranborne Chase
Chesil Beach
Poole Harbour
Lyme Bay
Brownsea Island
River Axe
Golden Cap
Blackmore Vale
Marshwood Vale
Studland
Melbury Beacon and Melbury Down