Portland Bill, Dorset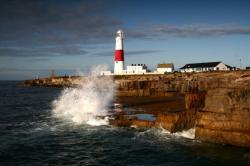 Portland Bill is the narrow promontory of
Portland
stone rocks that project into the English Channel on the southern edge of the Isle of Portland, near
Weymouth
. The rocks at Portland Bill also mark the southernmost point of Dorset. The Isle of Portland is not actually quite an island, the island like land mass is still connected to the mainland by the narrow
Chesil Beach
.
Portland Bill has long been used by passing shipping as a way-point, helping seafarers by giving them a familiar mark of their progress. Portland Bill's rocky features, and its strong tidal race and shallow reef in particular, are also a serious threat to ships. Over time, three lighthouses have been built to warn shipping of the dangers. The distinctive white and red striped Portland Bill lighthouse, itself a well known landmark, is the most recent of the trio. The 115 foot high lighthouse was completed in 1906 and is a popular tourist attraction that features on many of the postcards for sale in the area. The lighthouse was completely refurbished in 1996 when a computerised control system was installed. The opportunity was also taken to add a nearby visitors centre to provide information and guided tours of the lighthouse. The earlier lighthouses both stand further inland, with one now serving as an important observatory for ornithologists. The centre there also keeps important records of bird migration and provides accommodation for visitors.
The rocks at the bill, and the sea crashing and weaving among them, are another tireless draw for the visitors. People will literally stand and just watch the sea coming and going for hours. Pulpit Rock is one of the most visually striking of the formations although it isn't strictly a natural one. In fact it was formed by quarrying to extract the valuable Portland stone. Quarrying long provided one of the only sources of income on The Isle of Portland. Portland Stone has been used on many famous buildings all over the world, including
St Paul's Cathedral
in
London
and the United Nation Headquarters in New York.
The Isle of Portland has been inhabited since very early times and traces of occupation have been dated back to around 7,000 years. The
Romans
knew it as 'Vindilis' and
Thomas Hardy
wrote about it as 'The Isle of Slingers' due to the fact that Portlanders used to throw stones to keep the Kimberlins, or strangers, away.
Attractions for visitors to Portland include, Portland Bill Lighthouse and Visitor Centre,
Portland Castle
and
Portland Museum
.
More British Natural features?
Other Dorset Naturals
Durdle Door
Jurassic Coast
Purbeck Hills
Old Harry Rocks
Lyme Bay
Cranborne Chase
Lulworth Cove
Chesil Beach
Poole Harbour
Lyme Bay
Brownsea Island
River Axe
Golden Cap
Blackmore Vale
Marshwood Vale
Studland
Melbury Beacon and Melbury Down