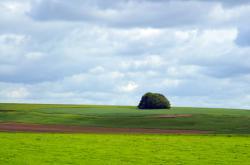 Salisbury Plain is 300 square miles of chalk plateau in central southern England. The actual area known as Salisbury Plain has never been established but most of it lies in Wiltshire with just a small section in
Hampshire
. Salisbury Plain is part of the Southern England Chalk Formation that includes both the
North Downs
and
South Downs
.
Around half of the plain is given over to military use and is not open to public access. This lack of accessibility, plus the existence of two National Nature Reserves, helps to make the plain a wildlife haven. In 2003 the Great Bustard was released onto Salisbury Plain as part of a plan to reintroduce it to Britain.
Large parts of Salisbury Plain are either MOD land or farmland, and so the area is very sparsely populated.
Salisbury
is associated with the plain, even though it is actually beyond the southern edge.
Amesbury
is the largest town, although with fewer than 10,000 citizens it isn't a major town by any means. There are a number of small villages on the plain including Tilshead, Chitterne and Shrewton, as well as some army camps. Two major roads cross the plain. The A303 road runs along the southern edge while the A360 cuts across the centre from north to south.
The plain hasn't always been so empty. In the Neolithic period man began to settle on the plain. Large long barrows like White Barrow and other earthworks were built all across Salisbury Plain. By 2500 BC, several areas around Durrington Walls and Stonehenge had become a focus for building, and the southern part of the plain continued to be settled into the Bronze Age.
Stonehenge
, which lies near to the A303 and Amesbury, is the most famous feature of Salisbury Plain. The monument is thought to have been erected around 2500 BC and nowadays is host to a constant stream of visitors from all over the world. There is a car park and visitors centre at Stonehenge.
Wiltshire has more than 7,500 paths for walkers and cyclists. One of them, the Wiltshire Cycleway, threads its way through quiet country lanes and passes many of the county's most attractive places. The full route is 160 miles long but a network of shorter loops give a wide choice of distance and terrain. The Wiltshire Cycleway can offer everything from a leisurely afternoon cycle ride to a long distance cycle route lasting several days.
More British Natural features?
Other Wiltshire Naturals
River Avon
Cranborne Chase
Cotswold Hills
River Kennet
Silbury Hill
The Ridgeway
Vale of Pewsey