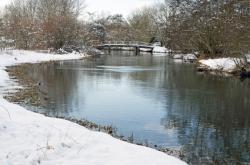 The River Kennet flows for around 45 miles through the counties of Wiltshire and Berkshire. It rises at Swallowhead Spring, near Silbury Hill in Wiltshire and enters the River Thames at Blakes Lock in
Reading
which is in Berkshire. The River Kennet supplies the
Thames
with up to half of its water during the summer months and is its largest tributary.
The rivers Og, Lambourn, Dun, Enborne and Foudry Brook are all tributaries of the Kennet. The principle towns along the river are Marlborough,
Hungerford
and
Newbury
.
The River Kennet is designated as a Site of Special Scientific Interest (SSSI) at the section that starts near its source near
Marlborough
and runs to Woolhampton. The river enjoys an extensive range of rare animals and plants that are unique to chalk watercourses. The River Kennet also flows through the North Wessex Downs Area of Outstanding Natural Beauty (AONB).
The lower reaches of the river are navigable and are known as the Kennet Navigation. The river combines with the Avon Navigation, the Kennet and Avon Canal and the River Thames to link
Bristol
in the west to
London
in the east. This was once a vital transport link at the time when Bristol was one of England's principle west coast ports. Nowadays this navigation is mostly enjoyed by the rising numbers of
pleasure craft
that are becoming synonymous with Britain's canals and waterways.
The River Kennet is a very popular river with anglers, a popularity that extends a long way back into history. The river has a long association with fly-fishing and is the home of the native Kennet trout, or 'greenback', now rather a rarity. Anglers choosing the river for their sport won't be disappointed though, the river is well stocked with brown and rainbow trout. The river is also popular with walkers and cyclists and a variety of walks, paths and trails can be discovered along its course.
The ancient market town of Marlborough, near the river's source, is a typical and charming Wiltshire market town. Settlements have existed in the area for thousands of years. This is evidenced by the many signs of very early human habitation in the region, such as the tumulus (pre-historic mound) that lies within the grounds of
Marlborough College
and Silbury Hill which lies five miles to the west of Marlborough. The tumulus in Marlborough College is reputed to be the burial site of the wizard Merlin and indeed the word Marlborough is a derivative of 'Merlin's Barrow'.
More British Natural features?
Other Berkshire Naturals
The River Thames
North Wessex Downs
Thames Valley
Lardon chase
The Ridgeway
Goring Gap
Berkshire Downs
Greenham Common
Walbury Hill
River Pang