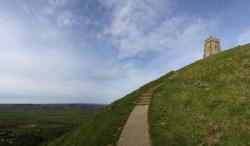 The North Wessex Downs are an officially designated Area of Outstanding Natural Beauty (ANOB) located in the centre of southern England. The horseshoe shaped area covered by the ANOB stretches almost as far as
Reading
, surrounds
Newbury
and includes parts of Berkshire, Hampshire, Oxfordshire and Wiltshire. It also includes a Site of Scientific Interest (SSI). The name Wessex derives from the ancient
Anglo-Saxon
kingdom that existed here before the
Norman Conquest
in 1066.
The downs are a unique and varied landscape that includes ancient woodlands, open downland and chalk streams. The 668 square miles of the ANOB also include the Marlborough Downs. These are famous for their unspoilt sheltered valleys, as well as hills which are often crowned with beech woods. The woodlands of Chute and the Savernake Forests are all within the ANOB, as are the Thames Basin Heaths.
The downs are part of the
North Downs
which stretch from
Dorset
in the West to
Kent
in the East, running almost parallel to the
South Downs
.
Walbury Hill
, just south of
Hungerford
in Berkshire, is the highest point on the downs reaching 974 feet.
The ancient
Ridgeway
, which is often described as Britianís oldest road, passes through the downs and is still a popular route for those wishing to visit the area.
More British Natural features?
Other Berkshire Naturals
The River Thames
River Kennet
Thames Valley
Lardon chase
The Ridgeway
Goring Gap
Berkshire Downs
Greenham Common
Walbury Hill
River Pang