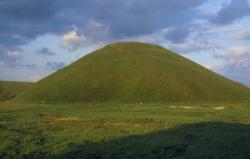 Silbury Hill is the largest man-made mound in Europe. Part of the
Stonehenge
,
Avebury
and Associated Sites UNESCO World Heritage Site, Silbury Hill is located in the county of Wiltshire. Experts suggest it dates to around 2400BC and say it contains no burial chamber or any evidence of it being a grave. Silbury Hillís significance and purpose are now a mystery. In 2007 English Heritage found the remains of a
Roman
settlement at the foot of Silbury Hill. Containing neatly laid out streets and houses, the Roman town covered an area the size of 24 modern football pitches. Evidence of medieval settlement at Silbury Hill have also been found.
More British Natural features?
Other Wiltshire Naturals
River Avon
Salisbury Plain
Cranborne Chase
Cotswold Hills
River Kennet
The Ridgeway
Vale of Pewsey