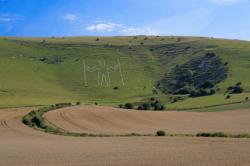 The South Downs are a range of chalk hills that run from the eastern side of Hampshire to East Sussex, ending near
Beachy Head
. The range measures around 70 miles in length and seven miles wide. There are two areas of the South Downs that are designated as Areas of Outstanding Natural Beauty (AONB) and there are many Sites of Special Scientific Interest in the downs. There are suggestions that much of the South Downs should become a national park. The two areas of the South Downs designated as AONB are the East Hampshire and Sussex Downs AONBs. The picturesque
Kingley Vale NNR
, near
Chichester
is one of several National Nature Reserves (NNR) located in the South Downs.
The South Downs lie to the south of the
North Downs
and the pair come together at the
Wessex Downs
, just inside the Hampshire border. The eastern end reaches the coast between
Seaford
and Beachy Head. The
Seven Sisters
, the undulating cliffs which are the remnants of dry valleys eroded by the sea, mark the spectacular western end of the South Downs.
There are four river valleys which cut through the South Downs; the Rivers Arun, Adur, Ouse and Cuckmere. The highest point in the downs is Butser Hill, which lies alongside the A3 trunk road, just south of
Petersfield
in Hampshire. The 886 foot chalk hill is a popular walking spot. Whenever there is any snow, Butser becomes crowded with those brave enough to attempt the frightening sledge ride down its steep slopes.
The South Downs is a magnet for walkers and ramblers. Their close proximity to many centres of population, such as
Southampton
,
Portsmouth
and
Brighton
, mean they are within easy reach of millions of people. A network of over 2000 miles of well-managed, well-signed and easily accessible trails has grown up making the downs an excellent and safe choice for walkers. The
South Downs Way
is the most famous and the longest of the walkways in the South Downs, it is trodden by literally millions of pairs of feet every year. The Monarch's Way originates at
Worcester
before crossing the South Downs to terminate at
Shoreham-by-Sea
.
The topography of the hills mean they are ideal for
paragliding
and mountain-biking. You will also often see people flying kites on Butser Hill in windy weather. Horse riding is extremely popular on the many miles of bridleways that thread their way through the South Downs.
More British Natural features?
Other Sussex Naturals
The Weald
River Mole
Romney Marsh
River Medway
Beachy Head
Camber Sands
Sussex Downs
Ashdown Forest
Seven Sisters
River Arun
Devilís Dyke
Birling Gap
Cissbury Ring
Harting Down
Ditchling Down
Black Down
River Adur