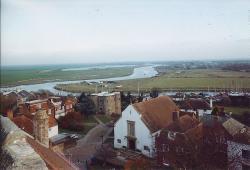 The Romney Marsh is a sparsely-populated wetland area of about 100 square miles in the counties of Kent and East Sussex. It was reclaimed from the sea centuries ago and is known as 'the fifth quarter of the world' or 'the fifth continent' due to its completely unique character.
Before the great storm of 1287 life on the Marsh centred on the Cinque Port of
New Romney
. The storm landlocked the town and so farming the Romney Marsh sheep became the area's staple source of income and the Marsh is still mostly devoted to agriculture. Most of the marshland is drained and much of it is used to cultivate yellow oilseed rape. The unique Romney Sheep thrive still, enjoying the grass that grows on the reclaimed land. Export of the breed to Australia began in 1872 and they are still the the main type of sheep there today.
The shellfish found around Dungeness are a much loved item with seafood lovers and even Dungeness shingle enjoys protected status.
Dymchurch
is a small and ancient village in the South East Corner of the Romney Marshes that is today a very popular holiday resort, largely due to its wonderful sandy beaches. In the past it was home to the smuggling trade across the Marshes. Now the smuggling has gone and in its place is a light railway station and an amusement park.
The Marsh churches are as famous as they are unusual. The large number of them in what is quite a small area has at time led to the suspicion that their primary use was actually for smuggling rather than worshipping. Smuggling was rife in
Romney Marsh
for many years. There is even evidence of battles fought between smugglers and the revenue officers in most Marsh towns.
The church of
St Clement
at Old Romney is in the middle of the Marsh. The church is 800 years old and is built on an artificial mound to protect it from the floodwaters. The yew tree standing in the church grounds is nearly the same age. It is one of the most-visited of the many Marsh churches and, because of its mostly untouched and original state, it has many features worth seeing. There is a tomb of a knight from
King Richard the Lionheart
's Crusades on the floor.
One of the best ways to see the Marsh is by cycle. The almost flat terrain and often deserted lanes make it ideal for riding. National cycle route 2 passes through the area and the section between
Rye
and
Lydd
is mostly off road.
More British Natural features?
Other Kent Naturals
The Weald
White Cliffs of Dover
The North Downs
River Medway
Chislehurst Caves
Thames Estuary
River Stour
North Kent Marshes
Toys Hill
Wrotham Water
Vale of Holmsdale