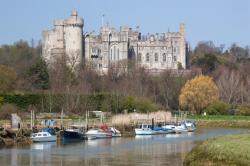 The Arun is a major river that runs for 25 miles through the county of West Sussex, England. It is one of the faster flowing rivers in England. The River Arun rises as a number of small streams in the St Leonard's Forest. These streams are known locally as ghylls, or gills. From this point, to the east of
Horsham
, it heads across to Horsham entering it in the west. At Nowhurst the River Arun is joined by North River. The River Arun then flows through
Arundel
and on past the ancient
castle
before flowing through some of the most picturesque scenery in Sussex. The River Arunís main tributary is the western River Rother. The river is tidal as far inland as Pallingham Quay and a full 18.25 miles upstream from where it flows into the English Channel at
Littlehampton
. The river has not always issued into the sea at Littlehampton, up until the end of fifteenth century the Arun joined the River Adur at
Lancing
, around ten miles to the east. The Adurís estuary then became blocked with shingle pushing it towards
Shoreham
. The Arun initially broke out at
Worthing
, and then Goring and Ferring before finally settling down at its present estuary at Littlehampton between 1500 and 1530.
More British Natural features?
1 Response to River Arun
From Andy Horton on 26th October 2012
We don't think the Arun ever entered the sea at Lancing. The topography does not support this view. I think it is creative writing. I cannot at the moment locate the writer. Conventional wisdom and old research indicated the Arun went straight out in a delta at Clymping.
Other Sussex Naturals
The Weald
River Mole
Romney Marsh
South Downs
River Medway
Beachy Head
Camber Sands
Sussex Downs
Ashdown Forest
Seven Sisters
Devilís Dyke
Birling Gap
Cissbury Ring
Harting Down
Ditchling Down
Black Down
River Adur