Beachy Head, Sussex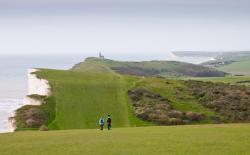 Beachy Head is the most famous part of the
Eastbourne
Downland. The chalk cliff at Beachy Head towers 530 feet above the waters of the English Channel, earning it the title of the highest chalk sea cliff in England. The headland gives panoramic views of the Sussex coast, with the beaches, pier, harbour and town of Eastbourne can all be seen to the east.
Pevensey Bay
,
Hastings
and in exceptional conditions, even Dungeness are also visible to the east. To the west you can see
Seaford
Head,
Newhaven
,
Brighton
and even sometimes on to
Selsey
Bill in West Sussex. Looking across to the
Solent
you can on occasion make out the faint outline of the
Isle of Wight
.
Despite being so close to the busy towns of south east England, Beachy Head can be a haven of peace and tranquility. The headland and the nearby
Seven Sisters
are part of an Area of Outstanding Natural Beauty. There is plenty to do in the area, apart from just walking the cliff path to take in the views. The area is a haven for those who enjoy walking, bicycling, kiting, horse riding and even hang gliding.
Birling Gap
, just along the coast from the headland, has a restaurant and a popular beach. In the summer many ice cream vans park up there to help cool down the revellers.
There are two lighthouses at Beachy Head. The original was built on the next headland, to the west of Beachy Head. Called the Belle Tout, the lighthouse started operation in 1834 but its light could not be seen by shipping in low mist or fog. Because of this it was decided to build a second lighthouse, this time in the sea just below Beachy Head itself. This started work in October 1902. Coastal erosion forced the Belle Tout lighthouse to be relocated a further 50 feet inland in 1999. Boat trips to take visitors around the Beachy Head lighthouse are available. Those preferring the attractions of dry land may prefer the hospitality of the
Beachy Head Pub
.
Unfortunately Beachy Head has an association with suicides that dates back to the 1600s. With an estimated 20 suicides per year there is now a special telephone box there with a direct line to the Samaritans, as well as regular patrols by the Beachy Head Chaplaincy Team.
The headland area has good facilities for visitors. A car park adjoins
Beachy Head
with public toilets that include Radar Scheme toilets for the disabled
More British Natural features?
Other Sussex Naturals
The Weald
River Mole
Romney Marsh
South Downs
River Medway
Camber Sands
Sussex Downs
Ashdown Forest
Seven Sisters
River Arun
Devilís Dyke
Birling Gap
Cissbury Ring
Harting Down
Ditchling Down
Black Down
River Adur

Brit Quote:
From a drop of water a logician could infer the possibility of an Atlantic or a Niagara without having seen or heard of one or the other. - Arthur Conan Doyle
More Quotes
On this day:
Battle of Hexham - 1464, George III survives 2 assassination attempts - 1800, The Great Gold Robbery - 1855, Opening of the Royal Opera House - 1858, British Legion Formed - 1921, Britain tests H-Bomb - 1957, Arsenal Become Invincibles - 2004
More dates from British history