Seven Sisters, Sussex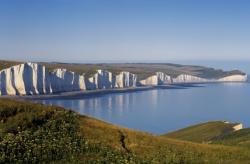 The
South Downs
are chalk hills that run across southern England. Where the downs meet the English Channel in Sussex, at their eastern end, there is a series of chalk cliffs known as Seven Sisters. The cliffs lie between the towns of
Seaford
and
Eastbourne
and are within the Sussex Downs Area of Outstanding Natural Beauty (AONB). A country park, the Seven Sisters Country Park, has been established there.
The cliffs have been formed by the action of the sea, eroding the soft chalk to reveal a cross section of what would have once been long post-glacial valleys. The erosion of the cliffs is ongoing, with a further few inches giving way to the sea each year. The process is intermittent rather than constant. Large falls will be caused by heavy rains and rough seas. These falls tend to create a temporary barrier against the sea at the foot of the cliffs. These barriers can last almost ten years before the sea clears them and is able to undercut the cliffs again.
At the western end of the Seven Sisters is the Cuckmere estuary. Heading east from here the Seven Sisters peaks are: Haven Brow, Short Brow, Rough Brow, Brass Point, Flat Hill, Bailey's Hill and Went Hill. The troughs, or 'bottoms', again starting at Cuckmere are: Short Bottom, Limekiln Bottom, Rough Bottom, Gap Bottom, Flagstaff Bottom, Flathill Bottom and Michel Dean. The cliffs here, being chalk and therefore white faced, have been used as a stand-in for the famous
White Cliffs Of Dover
, this is in part due to their resemblance but also because they are almost unspoilt by modern development.
This lack of development has not happened without a fight as many landowners in the area have desired to cash in on the enormous commercial value that any urban development on such a stretch of unspoilt coastline on the south coast would offer. The Duke of Devonshire, Carew Davies Gilbert wanted to build a mini
Folkestone
at
Birling Gap
. The Country Park and ANOB status now afforded the area hopefully is enough to see off such ill-advised plans.
The coastline at the Seven Sisters forms an important habitat for wildlife. A number of crustacea can be found there including crabs, barnacles and limpets. These enjoy the relative safety afforded by the rock pools found at the base of the chalk cliffs. The
South Downs Way
traverses the area at the top of the cliffs making it and ideal path for bird watching, cycling and walking.
More British Natural features?
1 Response to Seven Sisters
From danny on 15th April 2010
good background info
Other Sussex Naturals
The Weald
River Mole
Romney Marsh
South Downs
River Medway
Beachy Head
Camber Sands
Sussex Downs
Ashdown Forest
River Arun
Devil's Dyke
Birling Gap
Cissbury Ring
Harting Down
Ditchling Down
Black Down
River Adur