Sussex Downs, Sussex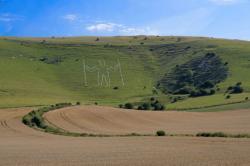 The Sussex Downs consist of all the
South Downs
in East and West Sussex as well as part of
The Weald
to the north-west. It has been designated as an Area of Outstanding Natural Beauty in order to give enhanced protection to the wildlife and natural environment there.
The Downs boast a spectacular landscape of sweeping chalk hills, big horizons and open skies. The precipitous north-facing scarp slopes of the downs are backed by sandstone uplands. The ridge of these hills runs unbroken from
Eastbourne
on the Channel coast in East Sussex to beyond
Petersfield
in
Hampshire
. Numerous sheltered clay vales teem with hidden wildlife and, despite being in an area of high population density, it often feels unspoilt and even devoid of human life there.
The southern facing slopes are gentle and fall away to the coastal plain and on to the sea. In the east the downs stride all the way to the sea forming impressive cliffs, including those at
Beachy Head
and the
Seven Sisters
, which are managed as a Heritage Coast.
Strict planning controls come hand in hand with ANOB status. These controls are designed to keep the busy urban sprawl at bay and to protect and preserve the area for future generations. However, this doesn't mean that careful development of the region isn't being considered for the future, the South Downs Joint Committee has produced a report on the future of the area. This isn't planned development as in building housing estates or offices, instead it includes plans to incorporate the area into a proposed South Downs National Park.
The AONB also helps to protects the pastoral, wooded and rich farming landscapes that lie at the foot of the downs and on to the north-west to meet the hilly, wooded sandstones and clays of the Weald.
There are two small but ancient towns in the Sussex Downs AONB.
Petworth
and
Midhurst
are delightful English country towns with traditional buildings in brick, flint, chalk and timber that contribute to, rather than detract from, the natural landscape. The area enjoys a prosperous rural economy based on large arable holdings as well as horticulture, commercial forestry and mineral working.
The South Downs Way
is a popular draw that brings a host of people into the region. The ancient right of way offers a challenging but rewarding walk for those wishing to tread the entire trail. The stunning scenery, delightful villages and many friendly country
pubs
along the way will all help to make the journey memorable.
More British Natural features?
Other Sussex Naturals
The Weald
River Mole
Romney Marsh
South Downs
River Medway
Beachy Head
Camber Sands
Ashdown Forest
Seven Sisters
River Arun
Devilís Dyke
Birling Gap
Cissbury Ring
Harting Down
Ditchling Down
Black Down
River Adur