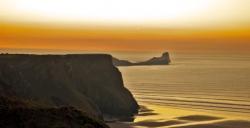 The Gower Peninsula is situated in South Wales, on the north side of the
Bristol Channel
. The Gower Peninsula was the first part of the United Kingdom to be designated as an Area of Outstanding Natural Beauty in 1956. The peninsula is about 70 square miles in area.
The Gower, as it is often known, is well known for beaches and is especially favoured by surfers. Walkers enjoy the miles of unspoilt coastline, as well as the countryside that is contained within the shoreline. One of the best ways to see the Gower region is from the back of a pony. There are several well organised pony trekking centres in the area for those wishing to get a different perspective of Gower.
The southern coast of the peninsula is made up from a collection of small bays with sandy or rocky beaches, such as those at
Three Cliffs
and
Langland
. These are supplemented by a small number of larger beaches such as Port Eynon, Rhossili and Oxwich Bay. There are fewer beaches along the northern coastline but the north does feature the famous cockle beds at
Penclawdd
. In all the Gower can boast no fewer than 25 beaches, the list of awards and commendations these beaches have gained over the years is too long to reproduce here.
There are many caves along the coastline, such as Paviland Cave and Minchin Hole Cave. The highest point on the Gower peninsula, at 633ft, is The Beacon at Rhossili Down on Rhossili Bay. The remote and rugged coastline meant the area was popular with smugglers who could unload their contraband away from any unwanted scrutiny.
Gower's history can be traced back much further than the relatively recent smuggling activities. A human skeleton found at Pavilion cave in South Gower is thought to be around 25,000 years old. The bones were originally uncovered by
Victorian
archaeologists.
A variety of standing stones from the Bronze Age survive in Gower. One of the most famous of these ancient monuments is Arthur's stone which can be found near Cefn Bryn.
The interior of the Gower Peninsular is mainly farmland and common land. A string of small villages hold most of the area's population. There are six
castles
in the Gower, these are Bovehill Castle (also known as Landimore Castle), Oystermouth Castle, Oxwich Castle, Pennard Castle, Penrice Castle and Weobley Castle.
Visitors to Gower are spoilt for choice when it comes to finding a place to stay. There's a huge variety of holiday accommodation available within Gower, including
Self-Catering
,
Bed & Breakfast
,
Caravan
&
Campsites
and
Hotels
.
More British Natural features?
Other South Wales Naturals
Brecon Beacons
The Black Mountains
Dan yr Ogof
Rhondda Valley
River Tywi
Cambrian Mountains
Wye Valley
Vale of Glamorgan
River Usk
Oxwich Bay
Cynon Valley
Taff Valley
The Vale of Neath
Pen Y Fan massif
Rhossili Bay
Sugar Loaf
River Clun
River Wye