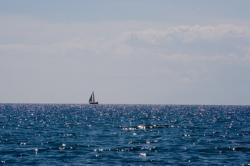 The Bristol Channel is a substantial stretch of water that lies between the west coast of southern England and the south coast of Wales. The channel is up to 30 miles wide and is between the
Severn
Estuary and the Celtic Sea, a part of the Atlantic Ocean that is to the south of the Irish Sea.
The Bristol Channel's lower limit is usually given as St Govans Head in
Pembrokeshire
on the north shore, and Hartland Point in Devon on the southern bank.
Lundy Island
sits in the mouth of the channel at its most westerly point. Two other notable islands lie in the channel, Caldey Island, Flat Holm and Steep Holm. The upper reach of the Bristol Channel is charted as between Sand Point in Somerset and Lavernock Point in the South Wales.
To the east of the channel is the Severn estuary. This marks the historic entrance to
Bristol
and the heart of England. The coastlines of western and northern Pembrokeshire and
Cornwall
not considered as being along the Bristol Channel. They are actually on the Atlantic Ocean seaboard.
Bude
in North Cornwall, however, used to be thought of by sailors on their way to
Cardiff
as the gateway to the Bristol Channel.
The coastline of the Bristol Channel is a haven to wildlife. A variety of rich habitats has helped the area lay claim to more miles of Heritage coastline than any other stretch of seaboard in the United Kingdom. The coastal areas of
Exmoor
,
Bideford
Bay, the Hartland Point peninsula, Lundy Island,
Glamorgan
,
Gower Peninsula
, South Pembrokeshire and Caldey Island are all Heritage coastlines. Lundy Island was made a statutory Marine Nature Reserve in 1986. The sheer variety of marine habitats and wildlife there were recognised as being important and worthy of protective status. Many rare and unusual species can be found in the waters around Lundy, including seaweed, branching sponges, sea fans and cup corals.
It's not only wildlife that finds the Bristol Channel area attractive. The Times Travel magazine selected Barafundle Bay in Pembrokeshire as one of the top 12 best beaches in the world in 2004. Then, in 2007, it was the turn of Oxwich Bay to make an appearance in the magazine's top 12 best beaches in the world list. The judges were so impressed with Oxwich Bay that it was also selected by them as Britain's best beach for 2007.
More British Natural features?
Other Bristol Naturals
River Avon
Severn Bore
Leigh Woods