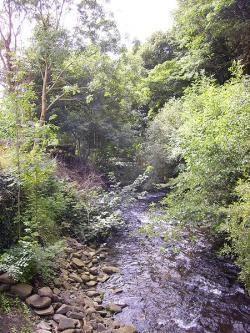 Rhondda, or Rhondda Valley, is a former coal-mining valley in Wales, The valley is in fact two valleys, being made up of the larger Rhondda Fawr valley (mawr large) and the smaller Rhondda Fach valley (bach small).
Both the singular term 'Rhondda Valley' and the plural 'Rhondda Valleys' are commonly used. It is part of the county borough of
Rhondda Cynon Taff
. Rhondda has a population of around 72,000 people living in 16 communities built around the River Rhondda. During the
Industrial Revolution
, and especially in the period from 1840 to 1925, the area was synonymous with the production of coal.
The coal mining is finished but evidence of it remains. At Trehafod the Lewis Merthyr Colliery was reborn as the
Rhondda Heritage Park
. Here the unique industrial heritage and way of life of 'the Valleys' is kept alive. Using multimedia and reconstruction of village life, the Heritage Park re-tells the industrial story of the Rhondda Valley. Former colliers, who themselves once worked these pits, take visitors underground to experience what working life in the mine was like during the 1950s.
When the coal mining collapsed large amounts of cash and effort were poured into the area in an attempt to lessen the social and economic blow. New industrial estates and business parks sprung up, often on the sites of former mines. Companies from as far as The USA and Japan invested in the area.
The Rhondda Valleys were also home to a strong early nonconformist Christian movement. This manifested itself in the baptist chapels which had a marked cultural influence in Rhondda during the 19th and early 20th century. The Rhondda Valley is well known for its male voice
choirs
and plays a key role in Wales' celebrated musical tradition.
Rugby
is the favourite sport in the Rhondda.
Apart from its rugged natural beauty, Rhondda Valley has lots to offer visitors.
Cyfarthfa Castle
is located nearby in the historical town of
Merthyr Tydfil
. The castle was built in 1824 and is situated in 160 acres of parkland complete with formal gardens, a lake, children's play area and a model railway.
Wherever you go in the Rhondda you are traditionally assured a warm welcome. The people of the Valleys are known for their positive outlook, even in times of hardship. Wales is a bilingual principality so visitors may find themselves being greeted in either Welsh or English. Welsh is the oldest living language in Europe and it is visible on highway signs, in shop windows and in print. Many schoolchildren in the Rhondda area attend schools where Welsh is the language of instruction
More British Natural features?
Other South Wales Naturals
Brecon Beacons
The Black Mountains
Dan yr Ogof
Gower Peninsula
River Tywi
Cambrian Mountains
Wye Valley
Vale of Glamorgan
River Usk
Oxwich Bay
Cynon Valley
Taff Valley
The Vale of Neath
Pen Y Fan massif
Rhossili Bay
Sugar Loaf
River Clun
River Wye