Somerset Levels, Somerset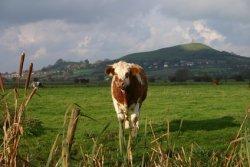 The Somerset Levels lie between the
Quantock
and
Mendips
hills in central Somerset. The wetland area, more correctly known as Somerset Levels and Moors, consists of marine clay levels along the coastal region, with mainly peat moors to the inland section.
The
Severn
Estuary borders the Somerset Levels and saltwater flooding used to be common. Historical and contemporary sea defences now largely control the flooding and the area has been drained for agricultural and residential purposes. The Levels are cut in two by the
Polden Hills
which run parallel with the Mendip Hills further to the north. The River Parrett drains the southern section and the Rivers Axe and Brue the northern. The total area covered by the levels is around 160,000 acres.
The area is mainly flat, as the name would suggest. Formations from the much older Triassic age protrude from the younger wetland. These would once have been islands, places such as
Glastonbury Tor
, Athelney,
Brent Knoll
and Burrow Mump. Glastonbury is often referred to as the Isle of Avalon.
There is plenty to do on the Somerset Levels with currently four visitor centres established in the area. These are each tasked with communicating various but specific aspects of the Levels.
The
Willows and Wetlands Visitor Centre
near Stoke St Gregory is a popular attraction. Dedicated to the place of willow in the history of the Levels, the centre offers tours of the willow yards and basket workshops. The Somerset Willow Company also open the doors of their workshops to visitors.
The
Peat Moors Centre
to the west of Glastonbury concentrates on the archaeology, history and geology of the area. Reconstructions of some of the archaeological discoveries are on show, including a number of
Iron Age
round houses and the world's oldest engineered highway, the Sweet Track. This is a neolithic oak bridge that was built to help the inhabitants safely cross the treacherous marshland before they were drained. The centre offers courses in ancient technologies including textiles, clothing and basket making. Various open days are staged with historical displays and demonstrations.
Glastonbury
is the historic location for a visitor centre in
The Tribunal
. This is a medieval merchant's house containing possessions and works of art rescued from the Glastonbury Lake Village. The items were preserved in almost perfect condition in the peat long after the village was abandoned. Glastonbury is also host to the
Somerset Rural Life Museum
which contains information about crafts and folk traditions on the Levels, including willow growing.
The
Langport and River Parrett Visitor Centre
in
Langport
itself presents details of the local life, history and wildlife of the Levels.
Westonzoyland Pumping Station Museum
is housed in one of the earliest steam-powered pumping stations on the Levels. Opened in the 1830s the station was closed in the 1950s. It has now been restored and opened to the public. It boasts several steam engines, some of them built locally. The museum hosts live steam days every year.
More British Natural features?
Other Somerset Naturals
Quantock Hills
Blackdown Hills
Cheddar Gorge
The Mendips
Wookey Hole Caves
Polden Hills
Exmoor
River Exe
Chew Valley
River Axe
Brean Down
East Lyn Valley
River Frome
River Brue
East Lyn River
River Washford
River Otter