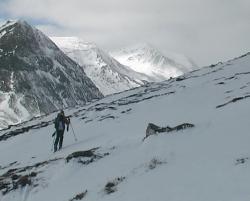 Cairn Toul is Scotland's fourth highest mountain, or Munro, at 4,236 ft (1,291 m). Only the three peaks of
Ben Nevis
,
Ben Macdui
and Braeriach are higher. The summit of Cairn Toul marks the second highest point in the western massif of the
Cairngorms
. The name Cairn Toul derives from the Gaelic 'Càrn an t-Sabhail' which means the 'Hill of the barn'. The summit of Cairn Toul towers above the western side of the lake, or loch, known as Lairig Ghru. The young River Dee, which has the highest source of all British rives, joins a tributary emanating from the Pools of Dee in the Lairig Ghru and then passes between Ben Macdui and Cairn Toul. Unlike many of the mountains in the Cairngorms, which tend to be topped with a plateau, Cairn Toul has a well-defined peak and is a favourite among climbers. The mountain is often scaled along with the other two peaks in it's range. Climbers scaling it from the south often combine it with The Devil's Point, which lies to south-southeast. Others choose to climb it from the north, taking in Braeriach and Sgor an Lochain Uaine. All the climbs need proper preparation as the area is wild, remote and susceptible to rapidly declining weather conditions.
More British Natural features?
Other Highlands Naturals
Ben Nevis
Cairngorms
River Spey
Lake Morar
Loch Maree
Loch Ness
Loch Lomond
Moray Firth
Great Glen
Falls of Glomach
Lochaber Mountains
Cape Wrath
Ben Macdhui
Aonach Mòr