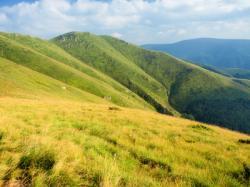 The Great Glen is not one glen (valley) but in fact a series of glens that run along the geological fault line, known as the Great Glen Fault, that bisects Scotland.
The Great Glen has long been a route into the Highlands Of Scotland. Both the Caledonian Canal and the A82 trunk road follow the route which links
Fort William
to Inverness. Fort William was one of a series of forts erected by the English to try and quell Highland Clans. Other forts towns along the Great Glen include
Fort Augustus
, which lies in the middle of the Great Glen, and Fort George which is found just north of
Inverness
.
The Great Glen features a series of lochs, interconnected by rivers. As most of these rivers are not navigable, the
Caledonian Canal
was built to connect the west and east coasts of Scotland. The canal uses the lochs wherever possible and only one third of the 62 mile canal route is man made. The canal, or 'caley' as it is affectionately known, is a fantastic way to explore the wonderful mountain scenery of the Great Glen. 
Many of the lochs in the Great Glen are as famous, or even more famous, than the Great Glen itself and
Loch Ness
must be the most well-known of them all. Loch Oich, Loch Dochfour, Loch Linnhe and Loch Lochy are the less well known lochs in the Glen.
The Great Glen Way is a long distance path that threads through the Great Glen. The 73 mile track was opened by H.R.H. Prince Andrew, Earl of Inverness, on the April 30 2002. It is described as the perfect introduction to long distance walking, with most of it being low-level and following the canal towpath or woodland tracks.
While the route can of course be walked in either direction, it is often suggested that the walk be taken from Fort William to Inverness so you are travelling with the prevailing wind at your back. The Great Glen Way offers the walker some of the most spectacular scenery in the British Isles on a journey through a region well known for its unspoilt tranquility.
Travellers along the Glen will never be short of a place to rest their weary heads at the end of the day.
Hotels
,
guest houses
,
hostels
,
campsites
and even log cabins can all be found along the Glen.
More British Natural features?
1 Response to Great Glen
From colin groves on 23rd February 2011
very good information well laid out & a good selection of links of different towns & villages.
Other Highlands Naturals
Ben Nevis
Cairngorms
River Spey
Lake Morar
Loch Maree
Loch Ness
Loch Lomond
Moray Firth
Falls of Glomach
Lochaber Mountains
Cape Wrath
Cairn Toul
Ben Macdhui
Aonach Mòr