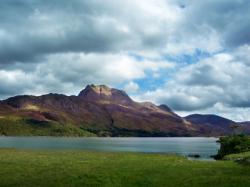 Loch Maree is Scotlandís fourth largest area of freshwater and the largest of any to be found north of
Loch Ness
. The loch, or lake, has a surface area of eleven square miles being around eleven miles long and two and a half miles wide. The loch was designated a Ramsar site on September 19, 1994 in recognition of the special wetland environment found there.
The loch is widely considered to be in one of the most picturesque areas of Scotland and certainly one of its most beautiful lochs. Loch Maree is home to more than thirty islands, five of which are relatively large and wooded. Isle Maree, one of the five larger isles, is the site of the remains of a chapel, graveyard, holy well and a holy tree. These are believed to relate to Saint Mael Ruba who died in AD 722. The saint founded the monastery at Applecross in AD 672 but it is thought that the island had previously been linked with the Scottish
druids
.
The waters of the lake have long been held to have curative powers and it is believed that being submerged in the lake can cure lunacy. The loch even boasts its own legendary monster known as muc-sheilch, although some discount it as nothing more than a large eel. Loch Mareeís very remote location at Wester Ross in the Northwest Highlands of Scotland it is a largely unspoilt area with little industry or commerce. The loch does, however, offer good trout fishing!
The area is so beautiful that it would seem almost wrong to spend your time there doing anything other than walking and taking in the great outdoors, simply enjoying the fresh Highland airs and the wonderful scenery.
Ben Eighe
, the first National Nature Reserve of its kind in Great Britain, is immediately south of Loch Maree in the western and wilder part of Ross and
Cromarty
. The reserve covers more than 10,000 acres at altitudes from 30 feet and ranging all the up to 3,000 feet. Visitors to the reserve may be lucky enough to sight some the animals that live there. These include the pine marten, the red deer and Scotlandís own breed of wild cat (felis silvestris). In the skies above the reserve you might even spy eagles. A trail leads from a field station to the reserve. The station was built by the Nature Conservancy on the western shore of Loch Maree at Annancaun, one mile north of Kinlochewe.
More British Natural features?
Other Highlands Naturals
Ben Nevis
Cairngorms
River Spey
Lake Morar
Loch Ness
Loch Lomond
Moray Firth
Great Glen
Falls of Glomach
Lochaber Mountains
Cape Wrath
Cairn Toul
Ben Macdhui
Aonach MÚr