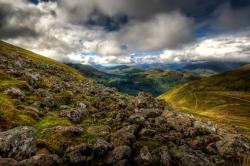 Ben Nevis is the highest mountain in the British Isles at 1,344 metres (4,406 ft) above sea level. It is part of the
Grampian
Mountains. The mountain sits at the western end of the range in the
Lochaber
region, nearest town is Fort William which sits on the south eastern bank of Loch Linnhe.
Fort William
is on the West Highland Line, which links
Glasgow
(Queen Street) to Fort William. It is considered to be one of the most picturesque lines in Britain. The main road link to Fort William is the A82.
The Scottish conservation charity the John Muir Trust bought the Ben Nevis Estate in the year 2000.
It attracts an estimated 100,000 ascents a year, most of them made by walkers using the well-constructed Pony Track from Glen Nevis on the south side of the mountain. The track was constructed in 1883 to enable ponies to carry supplies to the weather observatory that was also built that year. The track helped to make the ascent of the Ben increasingly popular during the late 19th century.
The 700-metre-high cliffs of the north face are some of the highest cliffs in Britain and present rock climbs of all difficulties. They also provide some of the most important locations in the UK for ice climbing.
The weather can and does pose a significant danger to ill-equipped walkers and climbers. Preparation, equipment, planning and knowledge are the keys to safety on the mountain. Even those using the Pony Track can come unstuck as fog can descend very rapidly to reduce visibility to almost zero.
The first recorded ascent of Ben Nevis was made on 17 August 1771 by James Robertson, an Edinburgh botanist, who was in the region to collect botanical specimens. It was not until 1847 that Ben Nevis was confirmed by the Ordnance Survey as the highest mountain in Britain, ahead of its rival Ben Macdui..
On or around 27 September 1895, a barber from Fort William named William Swan made the first recorded timed ascent up the mountain in a time of 2 hours 41 minutes. He set a trend and the
Ben Nevis Race
, as it is now known, has been run in its current form since 1937. It takes place on the first Saturday in September every year. Claggan Park football ground on the outskirts of Fort William is the start and finish line. The course is 16 km long with 1,340 m of ascent.
Located at the foot of the mountain by Victoria Bridge to the north of Fort William is the
Ben Nevis Distillery
, a single malt whisky distillery. Founded in 1825 by John 'Long John' McDonald, it is one of the oldest licensed distilleries in Scotland. The water used to make the whisky comes from the Allt a' Mhuilinn, the stream that flows from Ben Nevis's northern corrie.
Visitors to Ben Nevis have a wide range of facilities to choose from. Set at the foot of the Ben Nevis mountain footpath, the Ben Nevis Inn offers bunkhouse accommodation and a restaurant. The area is well served by many
hotels
,
bed and breakfasts
and
self-catering
cottages.
More British Natural features?
Other Highlands Naturals
Cairngorms
River Spey
Lake Morar
Loch Maree
Loch Ness
Loch Lomond
Moray Firth
Great Glen
Falls of Glomach
Lochaber Mountains
Cape Wrath
Cairn Toul
Ben Macdhui
Aonach Mòr