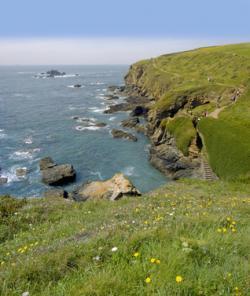 The Lizard is a peninsula found in the extreme south-western tip of England, in the county of Cornwall. Lizard Point marks the most southerly point of mainland Great Britain and is the site of the world famous
Landís End
.
The Lizard Peninsula has been designated as an Area of Outstanding Natural Beauty (ANOB) in recognition of its important ecological significance. It is home to no less than 15 of Britainís rarest plants. It is also home to Britainís only poisonous snake, the adder.
Despite being formed of a rock called serpentinite, the areaís name is not derived from any reptile. It is in fact most likely a derivative of the Cornish name Lys Ardh, which means Ďhigh courtí.
The Lizard has long presented a significant danger to shipping. The treacherous Man oí War Rocks just offshore have claimed many unfortunate vessels. This is in no small part due to the very heavy seas and storms so often thrown up by the Atlantic Ocean there. A lighthouse, Lizard Lighthouse, has stood at Lizard Point since the original one was first established there in 1751.
Fishing and the sea have long been the backbone of the regionís economy, although nowadays this is fading in importance and has been largely supplanted by tourism.
More British Natural features?
Other Cornwall Naturals
Bodmin Moor
Tamar Valley
Helford River
River Fowey
Camel Estuary
River Tamar
River Fal
Carbis Bay
Cape Cornwall
Camel Valley
St Anthony Head
Pentire Point and the Rumps
Rough Tor
Rame Peninsula
Dodman Point
Roseland Peninsula
River Camel
River Looe