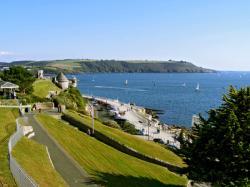 The Tamar Valley is situated in the south-western corner of England. The valley runs north from
Plymouth
Sound and forms a natural border between Cornwall and Devon. In 1995 the picturesque and historically significant Tamar Valley was designated an Area of Outstanding Natural Beauty (AONB).
An AONB is given protection because of the importance of its environment, geology and wildlife and also in recognition of an area's cultural heritage. The primary and stated aim is 'to conserve and enhance the natural beauty of the landscape.' The Tamar Valley easily qualifies for such enhanced protection. The area offers a rare valley and water landscape of exceptional visual and scientific quality. It is a unique wildlife resource that has tremendous artistic and public appeal.
The rich and diverse landscape of the Tamar Valley AONB covers around 75 square miles. Formed in part by the rivers
Tamar
,
Tavy
and Lynher, it is one of the last, unspoilt drowned valley river systems in England. The glacially enhanced valleys, scooped and shaped by ice movement, are part-submerged to produce a stunning and fertile landscape. Steep gorges, meandering rivers, ancient woodlands and wetlands were created by these ancient geological upheavals. The area is home to an extensive array of wildlife including a number of rare plants and animals. One such rarity is the Greater Horseshoe bat, one of Britain's rarest bat species.
2006 saw the area gain World Heritage Status, together with nine other sites throughout Cornwall. The award came in recognition of the historical significance of the area's copper mining landscape and remains. The Tamar Valley Mining Heritage Project is located in the heart of the Tamar Valley. Evidence of deep, dark mines and hard-working communities is everywhere. Trails that bring the visitor into close contact with this beautiful and historic combination of nature and industry are being developed by the Project.
Apart from simply walking, cycling or riding a pony around the area and enjoying it's tranquil beauty, there is a host of attractions in the area. The range is varied, even as varied as holidays in Native American-style tipis at Tamar Valley Tipis in Luckett. Slightly more English in flavour is the
Donkey Park
at Gunnislake which is always a big hit with children.
The area boasts an impressive array of accommodation for visitors. There is plenty of camping and both static and touring caravan parks. The area is rich with self catering country cottages and small guest houses. Hotels are numerous and range from the small family run concern to sophisticated country house hotels.
More British Natural features?
Other Cornwall Naturals
Bodmin Moor
The Lizard
Helford River
River Fowey
Camel Estuary
River Tamar
River Fal
Carbis Bay
Cape Cornwall
Camel Valley
St Anthony Head
Pentire Point and the Rumps
Rough Tor
Rame Peninsula
Dodman Point
Roseland Peninsula
River Camel
River Looe