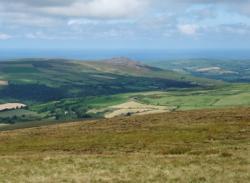 The Preseli Hills, or Preseli Mountains, are a range of hills that form part of the
Pembrokeshire Coast
National Park. The hills are located in the north of Pembrokeshire in and area known as West Wales. They rise to 1758 feet above sea level at their highest point, Foel Cwmcerwyn.
The hills have a long history of human habitation and activity. They are liberally dotted with evidence of this past, including many prehistoric remains fashioned in earth or stone. The hills were an important source of slate for a very long time and were extensively quarried. Slate is no longer big business in the Preseli Hills but remnants of the quarries can still be seen at Rosebush in Pembrokeshire. A slate workshop has been established at Llangolman and it still uses authentic Welsh slate to manufacture a variety of craft items.
The northern part of the hills feature deep wooded valleys that contrast with the heights of the wild, heather-clad moorlands. The area is a remote coastal plateau frequented by the herds of Welsh ponies and sheep that graze freely there. Birds of prey can often be seen hovering in the wide open skies above. The area is criss-crossed with ancient tracks that are popular with walkers and pony trekkers. The 'Golden Road' is one of these routes, an ancient track that would have been a main trade route between Wessex and Ireland. There are many organised walks and pony treks available in the area. Mountain biking has recently been added as a way to explore the wonders of the region and bike hire is on offer at various points.
There are many notable ancient features worth making the effort to reach. Bedd Arthur, or Arthur's Grave, is an ancient site of earthworks and standing stones that sits on top of the Preseli ridge overlooking the rocky outcrop of Carn Menyn. The outcrop has been long suggested as a possible source for some of the bluestones found at
Stonehenge
. The name Carn Menyn means 'Butter Rock'. Bedd Arthur is one of many sites in the region associated with the legendary
King Arthur
. Another is Carreg Coetan Arthur, a neolithic dolmen found near
Newport
in North Pembrokeshire, Wales.
A more interactive view of ancient history is on offer at
Castell Henllys
. Situated between Newport and
Cardigan
, the Iron Age hill fort is now owned by the
Pembrokeshire Coast National Park
.
The hill fort, and the ongoing excavations there, have been used as the location for an exercise in reconstruction archaeology, including experiments in prehistoric farming. Four roundhouses and a granary have been built back onto their original
Iron Age
foundations. During the summer months the site is used as a training excavation for budding young archaeologists. The site is also a very popular visitor attraction.
More British Natural features?
Other West Wales Naturals
Bristol Channel
River Tywi
Cambrian Mountains
Cardigan Bay
River Usk
Cothi Valley
St David's Peninsula