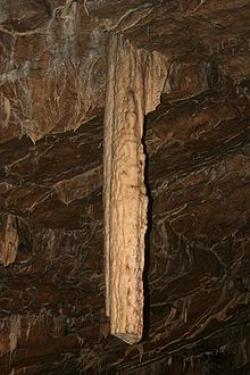 Poole's Cavern, sometimes known as Poole's Hole, is a limestone cave found south of
Buxton
in Derbyshire's
Peak District
. The cave has been designated as a Site of Special Scientific Interest. The natural cavern forms part of the Wye system and gets its name from Poole, an outlaw who supposedly used the cave as his lair during the fifteenth century. For many years the existence of Poole was in doubt, but a recent stash of coins dating from the early 1400s found within the caves does suggest there may be truth in the tale. During 1981 and 1983 archeological excavations found evidence to suggest the caves were occupied in some manner from at least the Bronze Age.
The cave was already a tourist attraction when it was officially designated as a show cave by the 6th Duke of Devonshire in 1853. It had previously been listed as one of the 'Wonders of the Peak' by
Charles Cotton
back in 1683. Frank Redfern, working as the Duke's overseer, widened the entrance and installed gas lamps. The lamps were still in use when the cave was closed to the public in 1965. The site reopened in 1975 with 310 metres of cave officially on view, with some parts accessible to wheelchairs. The entire public area includes the Roman Chamber, Great Dome, Poached Egg Chamber and Sculpture Chamber.
Guided tours through
Poole's Cavern
begin every 20 minutes. Expert guides lead visitors on a one hour journey deep into the Peak District's hidden landscape. The cavern is well lit with good pathways and has only 26 steps to climb throughout.
The large stalactites and stalagmites known as the 'Flitch of Bacon' and 'Mary Queen of Scots' Pillar' are popular. For many years it was assumed that the tip of the 'Flitch of Bacon' stalactite had been lost to early vandals. However, it was eventually discovered hiding among bushes at the cave's mouth. The tip is now on display in the museum at the cavern entrance. The '
Mary Queen of Scot's
Pillar' was so named because the Queen was supposedly one of the cave's early visitors. She was said to have been so taken by the pillar that she embraced it and kissed it. The monarch may have been less inclined to do this if she had first noticed the colony of bats above who were inclined to leave dubious deposits on pillar! Other stalagmites within the cave feature a porous texture and poached egg colour. This has been attributed to minerals leached from lime-burning on Grin Low above. The cave system is believed to extend further, but it has not yet been explored
More British Natural features?
Other Derbyshire Naturals
River Trent
National Forest
The Pennines
Blue John Cavern
Derbyshire Dales
Carsington Water
Hope Valley
Erewash Valley
High Peak

Brit Quote:
I don't know why I should have to learn Algebra... I'm never likely to go there. - Billy Connolly
More Quotes
On this day:
Battle of St Albans - Wars of the Roses starts - 1455, James Iís Bargain Baronets - 1611, Littleportís Bread or Blood Riot Begins - 1816, Britains worst Rail Disaster - 1915, Burgess and Maclean Defect - 1951, Abbeystead Disaster - 1984, Murder of Lee Rigby - 2013
More dates from British history