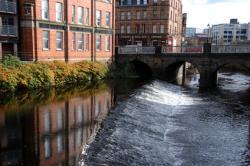 The River Don flows for 70 miles through the
Pennines
until it meets the River Ouse at
Goole
. It originally joined the
Trent
but it was re-engineered by Vermuyden in 1627. This formed a new stretch called the Dutch River that joins the Don to the
River Ouse
at Goole in the East Riding of Yorkshire. The Don rises in Yorkshire, in the midst of the beautiful
Peak District
National Park. It then flows eastwards, through the Don Valley, via Penistone, Sheffield,
Rotherham
, Mexborough, Conisbrough,
Doncaster
and Stainforth.
The Don valley still bears the traces of industry, especially in the urban centres such as Doncaster, Sheffield and Rotherham. However, today the Don is a much cleaner and healthier river than in the even fairly recent past. Salmon, trout and grayling are all now present in the waters.
Navigation as far as
Sheffield
was considered vital to trade this but had long proved difficult. It eventually was made possible, in many stages over a period of several years, by adding piecemeal canal cuttings to avoid circuitous and unnavigable sections of the Don. This method sufficed as far up as Tinsley where a canal was then cut for the final leg to Sheffield. The cuts and navigable river sections together constitute the Sheffield and South Yorkshire Navigation.
The Don is a river that exists in two distinct landscapes. The river flows through the old industrial setting but also through beautiful rural scenery. The Don area of Yorkshire is known for its steep hills. Sheffield, just like Rome, is built on seven hills. The hills allow panoramic views of the Don Valley from several high vantage points.
Penistone
and Thurgoland are well known both locally and further afield for their picturesque rural settings.
Just as in all other parts of the Pennines, walking and rambling are very popular in the region. Cycling, both on and off road, is very popular. The Sheffield to Rotherham stretch of the river has five weirs that punctuate the Five Weirs Walk, a well-loved local walking and cycling route. A further walk, the Upper Don Walk, is being added to allow one to walk or cycle from Sheffield city centre all the way up to Oughtibridge.
Both fishing and boating are popular on the Don. The main species to be caught are Barbel, Chub, Roach, Perch and Skimmers but Bream, Dace, Eels, Pike and even Carp can be found.
More British Natural features?
Other North Yorkshire Naturals
North Yorkshire Moors
Vale of York
River Ouse
River Eden
Forest of Bowland
North Pennines
River Ribble
Wensleydale
Howardian Hills
Yorkshire Dales
Brimham Rocks
Malham Tarn
Upper Wharfedale

Brit Quote:
The way to tell if a man is sexually excited is to check if he is breathing - Jo Brand
More Quotes
On this day:
Battle of Adwalton Moor - 1643, The Great Stink at its Worst - 1858, Night of the Long Knives - 1934, German Troops invade Channel Islands - 1940, First Harry Potter Book Published - 1997, Terror Attack on Glasgow Airport - 2007
More dates from British history