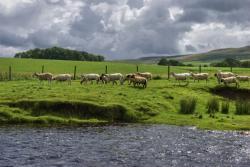 The Forest of Bowland is an Area of Outstanding Natural Beauty (ANOB) situated mostly in north-east Lancashire. A small part of the ANOB lies in North Yorkshire, much of this section has historically been part of the West Riding of Yorkshire. The Forest of Bowland is also known as the Bowland Fells.
The Forest Of Bowland ANOB features a landscape made up of barren gritstone fells, deep valleys and peat moorland. It was designated as an Area of Outstanding Natural Beauty (AONB) in 1964. Walking and cycling are popular in the area, as is grouse shooting on the wide open moors.
Pendle Hill
, which is separated from the main part of the Forest of Bowland AONB by the Ribble Valley, is one of the favourite destinations in the area. There are many designated walks in the region, varying from the casual country stroll to hard hikes for experienced fell walkers.
An area amounting to 13% of the AONB is designated as a Site of Special Scientific Interest. This designation has been granted in recognition of its important sections of heather moorland and blanket bog. The area is nationally and internationally important for its upland bird populations and the the hen harrier is featured in the logo of the AONB. However, it isn't all about nature and over 500 listed buildings and 18 scheduled monuments lie within the Forest Of Bowland AONB.
The area, although called a forest, is not actually particularly heavily wooded any more after years of human habitation have denuded the ancient woodland areas considerably. It was once part of a mighty forest that stretched across most of England, running from
Hampshire
to through
Nottinghamshire
and all the way up to the Bowland region. Instead the term 'forest' is used here in its ancient sense of 'a royal hunting ground'. Much of the land still belongs to the British Crown as part of the Duchy of
Lancaster
. Wild boar, deer, wolves, wild cats and game all roamed the forest in ancient times. There are moves to reintroduce many of these species in keeping with similar moves to re-establish the 'native species of Britain' in other areas.
The Forest of Bowland is home to an annual challenge event known as the The Bowland Challenge. Teams of walkers navigate around a series of grid references over a ten hour period and proceeds of the event go to support Bowland Pennine Mountain Rescue Team.
More British Natural features?
Other Lancashire Naturals
The Pennines
Pendle Hill
River Ribble
Arnside and Silverdale
Morecambe Bay
River Irwell
River Wyre
Rossendale Valley
River Duddon
River Lune