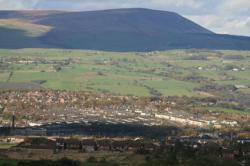 Pendle Hill is an ancient plateau in Lancashire that stands at 1,827 feet and gives its name to the borough of Pendle. The hill is in the north east of the county, with the
Pennines
to the east while the
Forest of Bowland
lies north west of the it. Although detached from the main body of the forest, the hill is actually included in the Forest of Bowland Area of Outstanding Natural Beauty (ANOB). The
Yorkshire Dales
National Park lies to the south west of Pendle Hill.
The hill is covered in peat, due to the decomposition of sphagnum moss though the ages. Below the peat the hill is made of millstone grit over softer shale on a limestone bed. The hill is supposedly something of a weather predictor as a local saying alluding to the generally high levels of rainfall on the hill suggests: "If you can see Pendle then it's about to rain, if you can't then it's already started".
Pendle Hill is famous for the
Pendle Witch Trials
which took place in 1612. The accused were 12 locals, all but two of them female. Ten were found guilty although one had already died in prison. The unfortunate ten were subsequently hanged. At the end of the 16th century the area was described by the authorities as being an area "fabled for its theft, violence and sexual laxity", however a visit to the region today would suggest it has managed to cast off those old ways!
Supernatural stories abound in the Pendle region. The devil himself is even supposed to have caused the hole in the side of the nearby motte and bailey Clitheroe Castle when he threw a rock plucked from Pendle Hill. Despite the devil's best efforts the castle still stands today and is entry is free to visitors.
The Clitheroe Castle Museum
, which is contained within the castle's bailey, does have a small admission charge.
The hill is famously the place where, in 1652 and shortly after release from prison,
George Fox
claims to have been led by God and subsequently had a vision while on the summit of many souls coming to Christ. George Fox founded the Religious Society of Friends, now commonly referred to as Quakers.
George Fox wasn't the first and certainly not the last man to enjoy a walk on Pendle Hill. Walking is very popular on the hill today and the hill is nowadays also a popular launch hill for paragliding and hang gliding, but only if the conditions are good enough.
More British Natural features?
Other Lancashire Naturals
The Pennines
Forest of Bowland
River Ribble
Arnside and Silverdale
Morecambe Bay
River Irwell
River Wyre
Rossendale Valley
River Duddon
River Lune