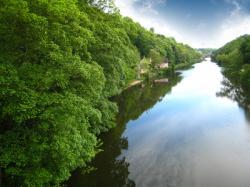 The River Wear rises in the
Pennines
at
Wearhead
in County Durham and then flows eastward to the North Sea at
Sunderland
.
Along with the rivers
Tyne
and
Tees
, the Wear was a vital part of the demography and geography of the region that ensured it played a crucial role during the
Industrial Revolution
. The upper reaches of the river run through former lead mining country and further downstream the lead is replaced with coal. Limestone was also quarried in the
Wear valley
. All three were vital to the industrial processes that developed during the transformation of Britain from a sleepy agrarian society to an industrial powerhouse. This combination of natural resources helped to ensure the early and rapid development of the railways in the Wear valley as the Industrial Revolution took hold.
While industry is still vital to the economy of the North East, it is now a mere shadow of its former self. The River Wear still flows of course, although nowadays it is more used by tourists and pleasure boats rather than for transporting coal, lead and limestone.
The Wear flows through the historic city of
Durham
. A severe meander in the Wear at Durham created the perfect defensive feature for a castle.
Durham castle
was built on the high ground that had been almost completely cut off by this meander. The name Durham itself derives from the Old English word 'dun', meaning 'hill', and the Norse 'Holme' which means 'island'. The
cathedral
, widely accepted as one of the best examples of Norman architecture still standing, occupies the same 'island' position as the castle, having been established within the walls of the castle grounds. The pair possess a formidable presence and they completely dominate the Durham skyline.
Other important centres of habitation along the course of the Wear include
Bishop Auckland
,
Chester-le-Street
and Sunderland. Bishop Auckland sits on the confluence of the Wear and its tributary the River Gaunless. The historic market town's links with the Bishop of Durham are apparent in the use of 'Bishop' in the name. A hunting lodge was established here for the Bishop and this was eventually expanded to become his principle residence.
Sunderland
marks the point where the Wear flows into the North Sea. The city has long been an important port and it grew rapidly in during the Industrial Revolution. The quality and nature of the port also led to its development as one of Britain's principle centres of shipbuilding
More British Natural features?
Other County Durham Naturals
The River Tees
Cauldron Snout
North Pennines
High Force Waterfall
The River Derwent