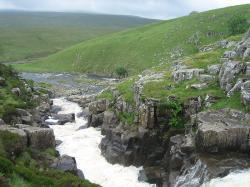 Cauldron Snout is a waterfall situated immediately below a dam on the Cow Green Reservoir. The dam and waterfall are on the upper reaches of the
River Tees
in Northern England. The water issues from below a dam built on to the eastern end of the reservoir. This substantial flow then cascades over a series of cataracts over rocky steps. At 200 yards long it is reckoned to be the longest waterfall in England. The vertical distance from the first cataract to the last is 200 feet, giving it claim to the title of the highest waterfall in England.
From Cauldron Snout the Tees makes its way towards
High Force
, which is further down stream. High Force is undoubtedly England's biggest waterfall but Cauldron Snout is one of the few examples of extreme British landscape. It attracts a lot of visitors who are happy to make the almost two mile walk from the nearest car park at Cow Green Reservoir in order to take in the views.
Cow Green was constructed between 1967 and 1971. The two mile long reservoir was built to supply the industries of Teesside. The Upper Teesdale area has long been recognised as of national importance environmentally. Plans to locate the reservoir there were met with staunch opposition from local conservationists. There was justifiable concern for the rich flora and fauna found in the area, including rare alpine plants like the unique Teesdale violet. Some concerns were met, however, as only an area of about one tenth of the violet's habitat was destroyed by the completion of the reservoir. In 1969, in an effort to balance the development, the remaining area was designated a National Nature Reserve.
The Moor House-Upper Teesdale National Nature Reserve covers an area stretching from the upper edge of enclosed land in the Eden Valley, over Great Dun Fell, Little Dun Fell and Knock Fell and on to the upper end of the Cow Green reservoir. It extends southwards to the summit of Mickle Fell and to the
High Force
waterfall that lies down river to the east. The county border between
Cumbria
and County Durham runs down the middle of the reservoir.
Guided walks along the Widdybank Fell nature trail leave from the Cow Green Reservoir car park daily at 2.00 pm. The walk takes the visitor to the dam and Cauldron Snout. Large panels at the car park display information about the reserve, its animal life, climate, geology and vegetation.
More British Natural features?
Other County Durham Naturals
The River Tees
North Pennines
River Wear
High Force Waterfall
The River Derwent