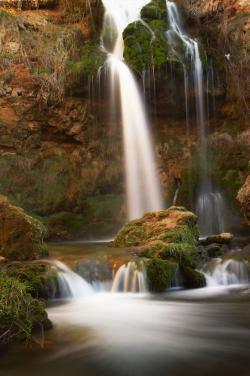 The High Force Waterfall on the
River Tees
in County Durham is one of the highest waterfalls in England. Some believe it to be the highest but this honour actually goes to the Howgill Fells in
Cumbria
, which have a total height of 180 metres and an unbroken drop of 30 metres at one point. It is also considered by many to be the most majestic of Englandís waterfalls.
Though not as tall as some waterfalls in other parts of the world, the sight of the River Tees suddenly and dramatically dropping almost 70 feet instantaneously over the volcanic rock of the Whin Sill is spectacular indeed. The Whin Sill is a ridge of volcanic rock running east to west across County Durham and
Northumberland
; part of this rock formation lies within the
Northumberland National Park
and part within the
North Pennines
Area of Outstanding Natural Beauty. The eastern end of
Hadrianís Wall
follows the line of this ridge. High Force Waterfall is considered one of the best places from which to view Whin Sill.
The continuous process of erosion caused by the rocks being drawn along the river bed are causing the falls to recede upstream, leaving an ever growing gorge (currently about 700 metres) in front of the falls.
The fall is just less than five miles from
Middleton-on-Teesdale
on the B6277 road.† Facilities are provided for visitors to the site. There is a small charge for parking and access to the site. There is also a gift shop there, which is open during the summer months. The falls are normally open all year round, although they are sometimes closed to the public in cases of extreme weather. There are toilets on site and accommodation is available nearby at the High Force Hotel and the
Langdon Beck Hotel
.†
If you follow the woodland walk to the waterfall, you are treated to a tranquil stroll through pretty countryside for about a third of a mile. This tranquillity only makes the appearance of the roaring water seem even more dramatic and stunning. There are many other walks and paths to explore either side of the falls, all of which are accessible to anyone with a reasonable level of fitness.†
Photographic opportunities exist in abundance with so many spectacular views available from different points around the falls. High Force has been used by television and film on numerous occasions; they were even used in the 1969 western MacKennaís gold!
More British Natural features?
Other County Durham Naturals
The River Tees
Cauldron Snout
North Pennines
River Wear
The River Derwent