Copt Hall Marshes, Essex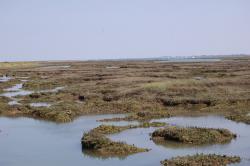 Copt Hall Marshes is found to the north of the Salcott Channel on the Blackwater Estuary in Essex. Part of the Blackwater Site of Scientific Interest (SSSI), Copt Hall Marshes are a remote salt marsh favoured by overwintering birds. The area is a working farm owned by the National Trust. Grass headland paths on the farmland behind the marshes give access to the sea wall although some paths are restricted during winter. Brent geese overwinter on the grazing marsh while waders prefer the salt marsh beyond the seawall.The 'Red hills' that can be seen on the grazing marsh were produced by fires once used to heat the salt pans for salt extraction.
More British Natural features?
Other Essex Naturals
Thames Estuary
Dedham Vale
River Colne
Rainham Marshes
Lee Valley
Northey Island
Mersea Island
Foulness Island

Brit Quote:
Have you ever noticed? Anybody going slower than you is an idiot, and anyone going faster than you is a maniac - Ronnie Corbett
More Quotes
On this day:
Eddystone Lighthouse Smashed by Storm - 1703, Britains 1st policewoman goes on duty - 1914, Train Downs Nazi Plane - 1942, Ross McWhirter killed by IRA - 1975, Damilola Taylor Stabbed to Death - 2000
More dates from British history