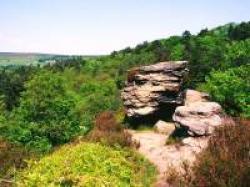 Hardcastle Crags is a National Trust owned site popular for walkers
and hikers looking for a higher than average level of difficulty.
Situated in the Pennines in West Yorkshire, England; it is set in and
around a heavily wooded valley with over 25 miles of footpaths. Within
the valley is Gibson Mill, a water-powered cotton mill, built in the
1800s and which is now used as the National Trustís flagship property
to highlight sustainable and renewable energy sources. Local flora and
fauna include beech trees, heron, woodpeckers and jays. In autumn it
also facilitates hundreds of varieties of fungi.
More British Natural features?
Other West Yorkshire Naturals
Ilkley Moor
River Aire
Colne Valley
Marsden Moor
River Calder