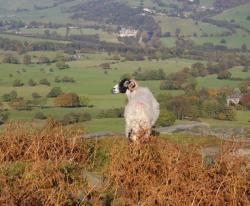 Ilkley Moor is a moorland area that looks down onto the spa town of
Ilkley
in West Yorkshire. Ilkley Moor, with its peat bogs up to 1,319 ft above sea level, is a part of the wider Rombalds Moor. Both are part of a wider area known as the
Yorkshire Dales
. The Moor is famously the inspiration for the song 'On Ilkla Moor Baht 'at', regarded as the Yorkshire county anthem.
Rock climbing is popular in areas of the Ilkley Moor. To the northern edge of the moor is an area that falls steeply towards the village of Ben Rhydding. Here there are two millstone grit rock climbing areas known as Rocky Valley and Ilkley Quarry.
The Cow and Calf, also known as Hangingstone Rocks, can be seen at Ilkley Quarry. This is a rock formation consisting of a large outcrop and boulder that is so named because this is said to resemble a cow and calf. Local stories suggest the Cow and Calf were once accompanied by a bull. It is said that the bull was quarried for stone during the 19th century when the local spa town was expanding rapidly. There is, however, absolutely no hard evidence of a bull ever having existed.
Other attractions on the moor include
Ilkley Tarn
. The Victorians would ice skate on this lake in the winter months. Ilkley Tarn's days as a
Victorian
tourist hotspot are over but people still visit the lake to enjoy the tranquility of the area.
Several prehistoric rock carvings are found on the moor, the most famous of which are the Cup and Ring stones and the Swastika stone. There is also the huge embellished Badger Stone and the Twelve Apostles stone circle. All of them present unanswered mysteries about the ancient history of man on Ilkley Moor.
From a more recent era is the place known as White Wells. This attraction houses a bath which is supposed to date from
Roman
times. A major fire on the moor in July 2006 left around a third of moor destroyed but this will regenerate over time.
Bolton Abbey
, in the Duke of Devonshire's extensive country estate, lies just to the north of Ilkley. Bolton Abbey is on the banks of the River Wharfe and has around 30,000 acres of beautiful countryside and 80 miles of footpaths to its credit. The ruins of the Priory are open for exploration and gift shops and food shop offer an escape for those who've had too much of the Abbey's open spaces.
More British Natural features?
1 Response to Ilkley Moor
From Mark Gurney on 23rd April 2009
I would like to suggest a correction for your page on Ilkley Moor. You state that there is no evidence for the existence of 'The Bull' in the past. I disagree. The Bull was quarried by The Dean Brothers (local builders in Victorian Ilkley) and used to build the Crescent Hotel and probably other parts of Ilkley as well. A nearby street is named after these brothers call 'Dean Street'. The reason I know this is because the Dean Brothers are part of my family tree and are either my Great Uncles or Great Great Uncles (I forget which) I hope you will see fit to correct your entry regarding The Bull
Other West Yorkshire Naturals
River Aire
Colne Valley
Hardcastle Crags
Marsden Moor
River Calder