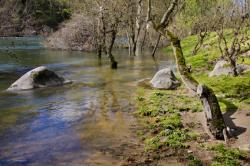 The River Aire is one of Yorkshire's major rivers, running some 71 miles through one of the most populated areas of the country, West Yorkshire. A significant section of the river is canalised and once was the major route between
Leeds
and the Humberside area.
Some twenty years ago, the river was considered largely dead as no fish could survive the waters in areas that had been polluted by raw sewage outflows at Knostrop and Esholt. Some claim it as a victory for privatisation of the utilities that the private company Yorkshire Water was harried by protesters to the point that it cleaned up its act, and thus the river, in order to maintain a positive public image. In 2006, they were proud of the fact that porpoises had been seen in the tidal areas of the river's waters. This suggested that fish stocks had once again increased to healthy levels in order to attract the porpoises into the river.
It is perhaps because of the old reputation of some parts of the river that it is not one of the best known rivers in Yorkshire when it comes to fly fishing. Further up the river has long been a good fishing location and it is fast becoming a favourite spot for many fly fishers. The writer T K Wilson was a well known angler from
Skipton
who wrote about the area under the pseudonym 'Broughton Point'. From Skipton to Coniston Cold, the river becomes a little narrower, making it more suited to fly fishing. After Coniston Cold the river narrows even more, making for a much cosier fly fishing spot.
The river goes through the City of Leeds, one of Yorkshire's most major cities. There is a popular riverside walk mostly on the south bank of the river in Leeds, taking in Victoria Bridge and Leeds Bridge. It crosses under the river via the Dark Arches under Leeds City station and ends at the
Royal Armouries
, after passing through the Granary Wharf and crossing the Leeds Liverpool Canal. Early in 2008 the River Aire burst its banks, causing flood damage to a number of properties and businesses, as well as creating a major disruption to traffic in Leeds.
The current Leeds Bridge was built by the
Victorians
and replaced the medieval bridge that had previously stood on the site. For many hundreds of years, until the 19th century, this had been the only bridge crossing the River Aire between Kirkstall and Swillington.
More British Natural features?
1 Response to River Aire
From Derek on 9th April 2013
i am looking for information about the river aire between skipton and Keighely! particularly if the river was at any point used as a navigation
Other West Yorkshire Naturals
Ilkley Moor
Colne Valley
Hardcastle Crags
Marsden Moor
River Calder