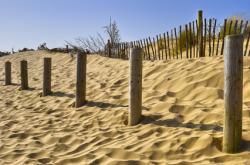 Formby is a town in the north west of England, formerly part of
Lancashire but is now part of Liverpool City Region. It is famous for
its long stretch of unspoilt coastline. Erosion of the sand on the
beach has revealed footprints from animals and humans dating back to
the late Neolithic/early Bronze Age, about 3500 to 7000 years ago.
Behind the shore are dunes which, among other things, are famous for
asparagus growing. They are also home to the natterjack toad and the
northern dune tiger beetle. The pine woods which sit along the coast
are one of seventeen red squirrel reserves in England.
More British Natural features?
Other Merseyside Naturals
River Mersey
The River Dee
Wirral Peninsula